The Handy History Answer Book, Third Edition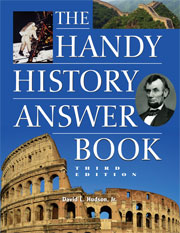 Blending trivia with historical review, David L. Hudson Jr. presents a thematic glossary of various factoids major and minor, including: historical eras, religion, war, politics, law, economics, social movements, disasters, medicine, philosophy, science, and recreation.

Book News
Trivia buffs who are also historians will want to read The Handy History Answer Book, Third Edition by David L. Hudson, Jr. This book is perfect for browsing, easy to pick up and put down, and it's a great argument-settler.

Bookworm Sez
The Handy History Answer Book is an opportunity for your family to walk through history in short segments. Written in a conversational tone that is very approachable and understandable, it can serve as a supplement to a history curriculum, or as a resource for those who just want to know more. This is a great resource.

Practical Homeschooling
A Walk through the Ages
Our country and the world is changing fast, and a knowledge of history helps us understand the hows, whats, and whys of modern civilization. Fully revised and updated, this new edition of The Handy History Answer Book answers over 1,000 how-what-why questions. A concise guide to all things historical, this feast of facts and compelling stories recounts the revolutionary ideas, acts, and inventions that have changed the world from the Stone Age through the 21st century.
Open the pages of this historical guide and get ready for an exciting journey. From Neanderthal Man to sports, from the Trojan War to the Arab Spring, from the Hippocratic Oath to the Internet, this is the perfect companion for history buffs of any age and a resource for learning—and brushing up on—the events, terms, and history makers.
The Handy History Answer Book follows the Celts, Vikings, Normans, Huns, and other ancient tribes, surveys early civilizations, including Greek, Chinese, Roman, Mayan, and Egyptian, exhumes the British Empire, tracks the expansion of the United States, and examines the lights, action, cameras and fast-paced swirl of modern life. Politics and war, exploration and settlement, science, religion, arts, technological advances, and more, this book chronicles the big news whenever and wherever it has been made.
What was trial by ordeal? When was the flush toilet invented? Who started the Boston Tea Party? What is Gray's Anatomy? How old is the U.S. income tax? When did mobile phones first come into use?

E-mail to a Friend
Quick Facts
ISBN: 9781578593729
PDF ISBN: 9781578594306
Kindle ISBN: 9781578594320
ePUB ISBN: 9781578594313
560 pages
150 photos and illustrations
7.125" x 9.25" paperback
$44.95
Related Titles
You might also enjoy...
Also by David L Hudson, Jr....
Author Websites
---
---