The Handy Wisconsin Answer Book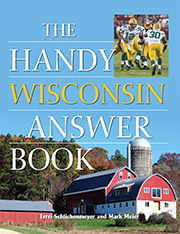 A big compendium of Badger State trivia and factoids, with a helpful subject index.

Milwaukee Journal Sentinel
… provide(s) a wide range of information about the Great Lakes Region state of Wisconsin. They cover Wisconsin basics; early history 1700-1800; the State of Wisconsin 1800 to 1900; Wisconsin history 1900 to now; city life: Milwaukee, Madison, and beyond; politics and law; business and agriculture; things to see and do; sports; fun facts, trivia, and the unusual; and notable sons and daughters.

Protoview Book News
Whether attracted by the bucolic countryside's lakes, streams, and vacation retreats; the vibrant arts community of Milwaukee; the raucous political partying in Madison; or its world-famous beer and cheese, Wisconsin has much to offer.
With a diverse geography, beautiful natural wonders, and lively cities, tourism naturally plays a major role in Wisconsin's economy. Visitors have numerous choices, ranging from the famous Taliesin East home, where Frank Lloyd Wright spent his summers, and the nearby odd House on the Rock to the Harley-Davidson Museum, National Railroad Museum, Circus World Museum, and Milwaukee Art Museum. Vacation getaways, hotel hideaways, and campsites abound from Lake Superior to Lake Michigan, from Door County to the Dells of the Wisconsin River and from the Land o' Lakes region to the scenic Ice Age Trail.
But Wisconsin is more than just tourism, so The Handy Wisconsin Answer Book takes an in-depth look at the state's fascinating history, people, myths, culture, and trivia. Covering its industries, politicians, arts, media, entertainment, and, of course, sports dynasties and legends, it brings the state's past and present to life. Learn about the earliest people in the Great Lakes area, the Paleo-Indian People, French explorers, traders, and the Paul Bunyan "myth," or peruse the numerous ethnic festivals of today, including Brat(wurst) Days, Polka Days, Cheese Days, and the Wisconsin Highland Games. Uncover surprising, fun facts like how Brett Farve's first forward pass for the Packers was caught by … Brett Favre! Discover 1,400 answers to questions such as: Why is Wisconsin called "Wisconsin"? How many lakes can be found in Wisconsin? What is the Wisconsin state dance? What are the most common arrowheads found in Wisconsin? How did log rolling become a sport? How did Paramount Records change the way we listen to music? Was Paul Bunyan a real person? What caused the decline in Schlitz beer? Which political party held sway in Wisconsin when the state was formed? What is unique about Wisconsin's capitol building? How much did each winning player make for playing in Superbowl I? How many towns in Wisconsin claim to be the UFO Capital of the World?
Illustrating the unique character of the state through a combination of historical review, current events, places and people of interest, and a little surprising trivia, The Handy Wisconsin Answer Book is perfect for browsing, a convenient place to go to look up basic facts, and an ideal resource for anyone interested in gaining an understanding of Dairyland's past and present. This informative book also includes a bibliography, an appendix of governors, a historical timeline, and an extensive index, adding to its usefulness.

E-mail to a Friend
Quick Facts
ISBN: 9781578596614
eBook ISBN: 9781578596980
416 pages
120 photos and illustrations
7-1/8 x 9-1/4 paperback
$21.95
Related Titles
You might also enjoy...
Also by Terri Schlichenmeyer...
---
---