Cover-Ups & Secrets: The Complete Guide to Government Conspiracies, Manipulations & Deceptions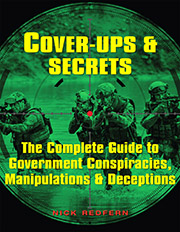 While it's clear that we'll never really know all the truths, it is books like these that help remove those veils with intense research and the constant questions of "what are they really hiding".

Horror News
… explores US government conspiracies, manipulations, and deceptions, such as agendas to restrict access to the internet, plans to ban books, the decision to suppress cancer cures …

Protoview Book News
Disinformation comes in many forms.
Denying, deadcatting, discrediting, and demonizing. Forged documents, fabricated intelligence, subversion, distortions, and media manipulation are only the tip of the iceberg. Falsehoods, distortions, and propaganda run rampant. Censorship, echo chambers, cries of fake news and false flags. The Internet and media are the battlegrounds of a full-fledged information war. It is no surprise that fear, uncertainty, and doubt reign.
From the dark agendas restricting access to the Internet, banning books, and suppressing cancer cures to the cynical murders of politicians, scientists, world leaders, and even Princess Diana in the name of national security, Cover-Ups & Secrets: The Complete Guide to Government Conspiracies, Manipulations & Deceptions reveals dozens of nefarious conspiracies, plots, hidden agendas, and betrayals, including …
Amazon's Alexa, the secret spy in the home
NASA misdirections
The classified Pentagon program on alien life
Clandestine plans for nuclear and bacteriological warfare
The NSA's penetration of cell-phones, email, Facebook, Twitter, and Skype messages
Suspicious deaths
Government monitoring of phones and computers
The Bilderbergers, the Illuminati, and the Bohemian Club
Secrets of the Philadelphia Experiment
The Patriot Act and the monitoring of reading habits
And much, much more!!!

The last few years have seen an incredible rise in conspiracy theories about deceptions and cover-ups. They range from the controversial to the shocking and from the nightmarish to the downright terrifying. Assembling some of the most notorious reports, Cover-Ups & Secrets provides gripping details on events for which official claims and standard explanations of actions and events remain shrouded in mystery. It exposes government cover-ups, surveillance, military collusion, CIA manipulations, and political backroom deals. With more than 120 photos and other graphics, it is richly illustrated, and its helpful bibliography and extensive index add to its usefulness.

E-mail to a Friend
Quick Facts
ISBN: 9781578596799
eBook ISBN: 9781578597000
432 pages
120 photos and illustrations
7-1/8 x 9-1/4 paperback
$46.95
Related Titles
You might also enjoy...
Also by Nick Redfern...
---
---