The Monster Book: Creatures, Beasts, and Fiends of Nature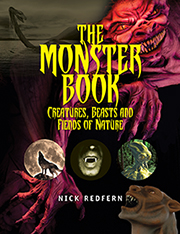 ... entries are well written and are presented in a colorful storyteller style ... a fun resource ...

ARBA
Ö informs, entertains and ... scares!

Bookworm Sez
This comprehensive guide offers lore, unique theories, hot spots, and photographs. Experience firsthand encounters ... that will take you down new and sometimes frightening paths as you hunt for the truth.

Church of Mabus Radio
[One of] The Best Cryptozoology Books of 2016

CryptoZooNews.com
well-written, thought-provoking, neatly organized, and more than a little spooky.

DemonHuntersCompendium
Covering nearly 200 creatures or entities, real and supposed, and profusely illustrated, it is a valuable resource for serious and casual readers.

Fortean Times
Uncomfortably, Terrifyingly and too Real!
Scientists and zoologists may assert they are not based in fact. Historians try to assure us they are nothing more than folklore and urban legend. Yet, the eyewitnesses, newspaper articles, and accounts from investigators and pursuers show that monsters do exist. They dwell in deep lakes, dense forests, inhospitable jungles, desolate caves, and on vast, icy mountain ranges.
Exploring the history, mythology, pop culture, and the supernatural, The Monster Book: Creatures, Beasts, and Fiends of Nature is a comprehensive resource of the monster menagerie from around the world. Examining the lore and legends, as well as the first-person accounts of bizarre freaks of nature and spine-tingling paranormal entities, it details each beast with thorough research, while recounting the facts in an engaging narrative.
This ominous look at monsters investigates nearly 200 beings, beasts, freaks, and fiends, ranging from the renowned and celebrated to the little-known and inglorious, including werewolves, Bigfoot, the Loch Ness monster, the Chupacabra, Mothman, the Mongolian Death Worm, giant flying monsters; winged humanoids; violent and hairy man-beasts; long-necked leviathans of lakes, rivers, and oceans; ferocious and deadly shape-shifters; and a multitude of other menacing mutants and dangerous demons

E-mail to a Friend
Quick Facts
ISBN: 9781578595754
PDF ISBN: 9781578596287
Kindle ISBN: 9781578596300
ePUB ISBN: 9781578596294
432 pages
120 photos and illustrations
7-1/8 x 9-1/4 paperback
$44.95
Related Titles
You might also enjoy...
Also by Nick Redfern...
---
---