The Witches Almanac: Sorcerers, Witches and Magic from Ancient Rome to the Digital Age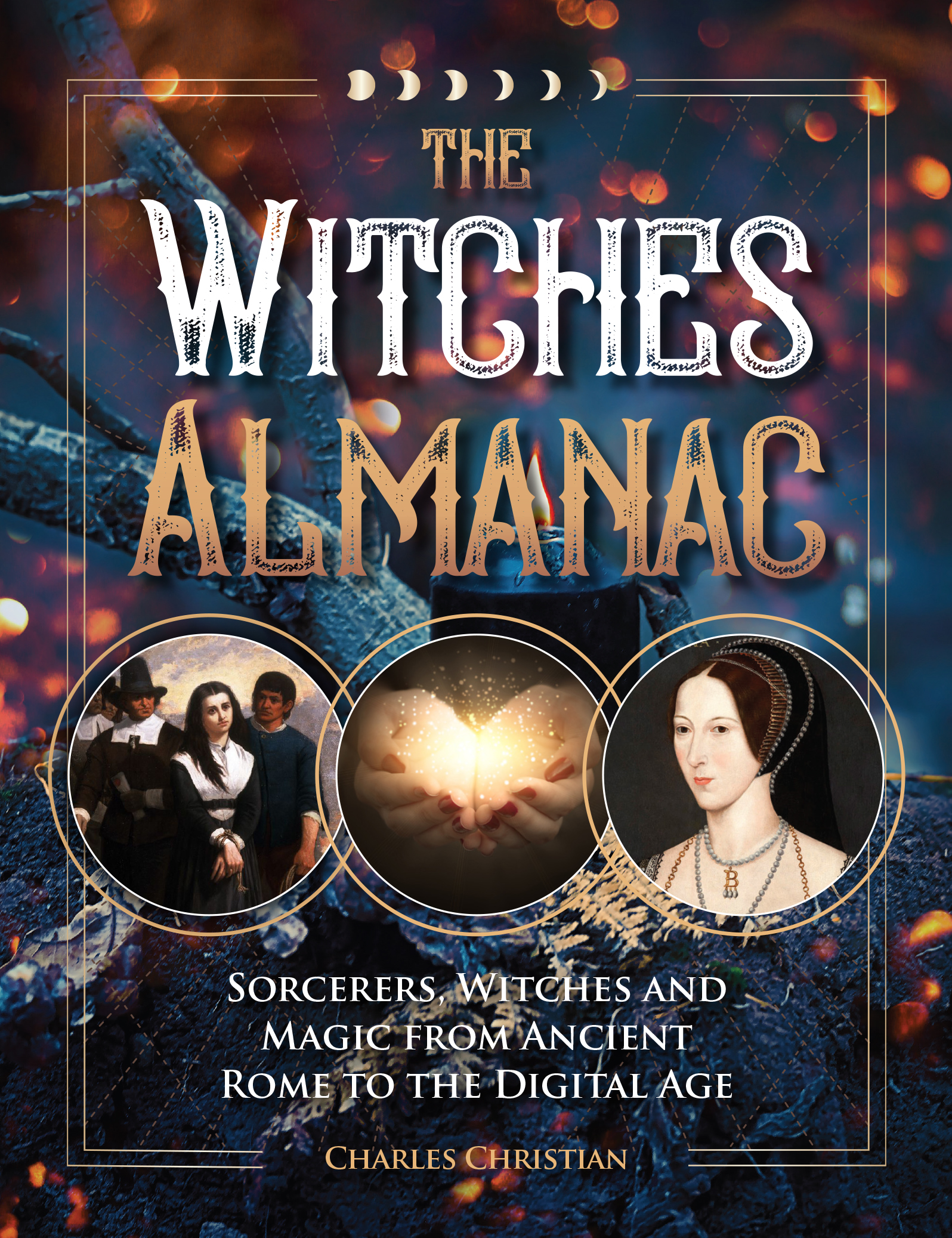 ★ Starred Review. … a true compendium of who's who in the world of witchcraft throughout Western civilization. … Each chapter defines an era of how magic and witches were perceived, defined, accepted, or persecuted in Europe and North America. The book provides numerous known details about the lives of practitioners of magic, witches, and alchemists, from the Middle Ages to the age of TikTok. … Extremely thorough and engagingly written, this title is an excellent historical reference for readers and students of the occult and witchcraft.

-Library Journal
... profiles about 360 witches and sorcerers from antiquity to the present, focusing on the Western/English-speaking world. He organizes individuals by theme or chronological era, such as the Middle Ages, witches at the royal courts of Europe, the Salem Witch Trials, feminism, witchcraft in postwar Germany, witch-hunts and black magic in modern times, and witchcraft in the digital age, with introductory information on the historical context and issues, followed by biographical entries. He does not include fictional characters or Satanism, Devil worship, Wicca, or other variants of Neopagan religion.

Book News
… truly an engaging must-read that will give insight to the witchcraft that has been seen in history such as witch trials, popes accused of sorcery, and even Henry VII's accusations of Anne Boleyn. … riveting biographies in a well-organized format with some that date back to Apollonius of Tyana (c. 3 B.C.E-97 C.E.) and going to modern witches such as Starhawk and Zsuzsanna Budapest. There hasn't been another book like this that contains this vast of an assortment pertaining to witches. An incredible resource that touches upon the history of witches in an almanac that is perfect for readers interested in witches and history, those studying wicca, students, and teachers.

Manhattan Book Review
… a pretty solid text on the history of magic. … And as far as operating as a "biographical dictionary" of magicians, "The Witches Almanac" does a fantastic job. I was hard pressed to think of any practitioners that may have been missed. Also, rest assured, "The Witches Almanac" has an excellent index, just in case you want to find a specific person. If you're looking for a rough history of magic that has the main focus on the practitioners that shaped it, "The Witches Almanac" by Charles Christian is not to be missed!

The Magical Buffet
Real Witches.
Real Lives. Real Magic. Real History. Take a magical tour through the lives and times of 359 of the most important sorcerers and witches throughout history.

For millennia there's been a fascination and a fear of people possibly wielding magical powers and a stigma surrounding practitioners of ancient rituals and practices. Yet, in the last 70 years, witchcraft, as well as Wicca, have gone from taboo beliefs pursued by a handful of eccentrics and misfits to major global, spiritual movements. Meet the troublemakers and rebels who pushed for change in The Witches Almanac: Sorcerers, Witches, and Magic from Ancient Rome to the Digital Age.

Covering real, suspected, and self-proclaimed witches, their persecution, conjurings, magic, and the history of some of the most consequential witches, sorcerers, wizards, and mavericks, this rich resource looks at dozens of history-making events and the lives and times of 360 of the most important witches, sorcerers, and wizards of all time, including ...

Circe, Medea, Hermes Trismegistus, the Chaldean Magi, and other ancient Roman and classical Greek witches
Merlin, Morgana le Fey, Nimue, the 10 Queens of Avalon, and sorcery and witchcraft in the Arthurian legends
San Cipriano, the obscure 4th century bishop whose influence today still plays an important role in folk magic and Hoodoo practices
Baba Yaga, Joan of Arc, Gilles de Rais, Alice Kyteller, Lord Soulis, Michael Scott, the Golem of Prague, and medieval witchcraft
King Henry VI, Anne Boleyn, King Henry VIII, Catherine de Medici, John Dee, Queen Elizabeth, and witchcraft in the British royal court
Isobel Gowdie, illusive Scottish witch whose voluntary confessions provided the template for traditional witchcraft beliefs
Isaac Newton, Friar Roger Bacon, Nicholas Flamel, Paracelsus, Cornelius Agrippa, Robert Boyle, and other alchemists
The Burning Times of the late 16th to early 18th centuries
The Berwick witch trial
The Salem witch trial
Aleister Crowley, W. B. Yeats, MacGregor Mathers, Eliphas Levi, the Golden Dawn, Thelema and ritual magic, and the rise of esoteric movements of the 19th and early 20th centuries
Jack Parsons, described as the "Jet-Propelled Antichrist" whose life of sex, rockets, and magic ended prematurely in a mysterious explosion
Gerald Gardner, Old Dorothy Clutterbuck, Alex Sanders, Robert Cochrane, Raymond Buckland, Lady Sheba, Marjorie Cameron, and others in the modern Wicca and witchcraft movement
And many others!

You'll get a deeper understanding of the obscure history of witches with this enchanting and bewitching tome! The Witches Almanac brings you their rich histories and extraordinary lives!

E-mail to a Friend
Quick Facts
ISBN: 9781578597604
eBook ISBN: 9781578598144
Published 2023
336 pages
120 photos and illustrations
7.125 x 9.25 paperback
$24.95
Related Titles
You might also enjoy...
---
---