African American Almanac: 400 Years of Black Excellence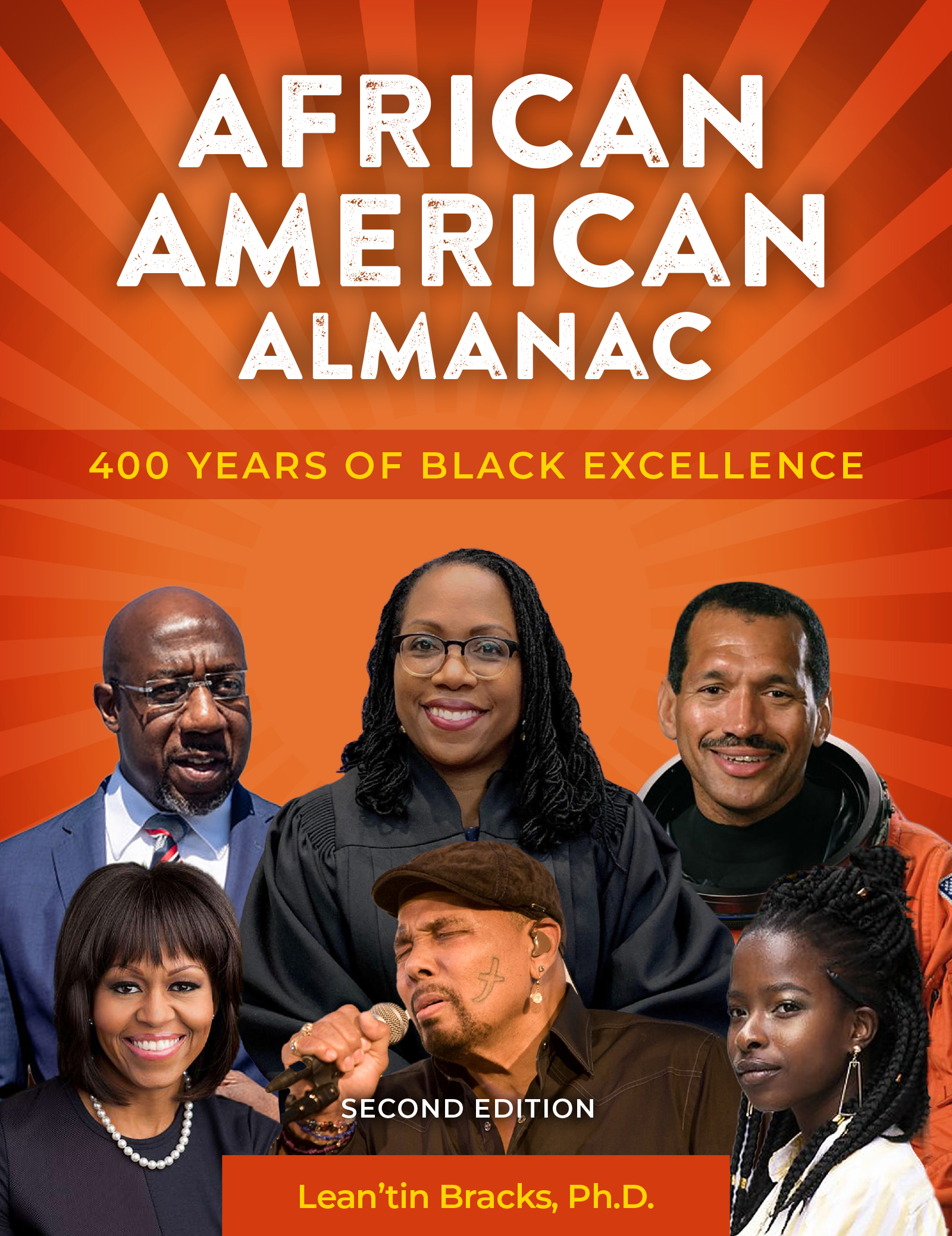 A one of a kind fantastic book of reference.... It renders a profound look at history by way of the African American experience.

Birmingham Times (praise for the prior edition)
This excellent reference work on the contributions of African-Americans to the history and culture of the United States provides accessible reference and biographical information on a wide range of important events and people.

Book News (praise for the prior edition)
Starred Review: affordable, concise, and overall first-rate resource.... Booklist Editors' Choice: Reference Sources, 2012

Booklist (praise for the prior edition)
Bracks impressive work is clearly for the educated lay-person, curious researcher, or studious scholar. Bracks has done well in presenting a fair account of the topics, making this an obvious addition to high school and college libraries everywhere

Children's Literature (praise for the prior edition)
Through historical overviews and hundreds of biographies, Bracks thoughtfully illuminates "a legacy of pride, struggle, and triumph" that is part of the black experience in the US.

Choice (praise for the prior edition)
Celebrating centuries of achievements, the African American Almanac provides insights on the influence, inspiration, and impact of African Americans on U.S. society and culture.

Denver Urban Spectrum (praise for the prior edition)
... excellent overview of African American contributions to the United States

Library Journal (praise for the prior edition)
This almanac highlights the considerable contributions African Americans have made to the fabric of U.S. society and culture. Perhaps most inspiring about this collection is that it also features the lives of lesser known leaders, artists, and political figures who may have been forgotten if it were not for their inclusion.

The Children's Book Review (praise for the prior edition)
Courage, resilience and triumph!
Celebrating the African American experience, the extraordinary people, and their profound influence on American history!
African Americans helped build the United States. Their contributions, deeds, and influence are interwoven into the fabric of the country. Celebrating centuries of achievements, the African American Almanac: 400 Years of Black Excellence provides insights on the impact and inspiration of African Americans on U.S. society and culture spanning centuries and presented in a fascinating mix of biographies, historical facts, and enlightening essays on significant legislation and movements.

Covering events surrounding African American literature, art and music; the civil rights movement; religion within the black community; advances in science and medicine; and politics, education, business, the military, sports, theater, film, and television, this important reference connects history to the issues currently facing the African American community. The African American Almanac also honors the lives and contributions of 800 influential figures, including ...

Stacey Abrams, Muhammad Ali, Maya Angelou, Josephine Baker, Amiri Baraka, Daisy Bates, Reginald Wayne Betts, Simone Biles, Cory Bush, Bisa Butler, George Washington Carver, Ray Charles, Bessie Coleman, Claudette Colvin, Gary Davis, Frederick Douglass, W. E. B. Du Bois, Michael Eric Dyson, Duke Ellington, Margie Eugene-Richard, Medgar Evers, Henry Louis Gates, Jr., Roxane Gay, Amanda Gorman, Nicole Hanna-Jones, Eric H. Holder, Jr., Langston Hughes, Zora Neale Hurston, Ketanji Brown Jackson, LeBron James, Mae C. Jemison, Gayle King, Martin Luther King, Jr., Queen Latifah, Jacob Lawrence, Kevin Liles, Thurgood Marshall, Walter Mosley, Elijah Muhammad, Barack Obama, Gordon Parks, Rosa Parks, Richard Pryor, Condoleezza Rice, Smokey Robinson, Wilma Rudolph, Betty Shabazz, Tavis Smiley, Dasia Taylor, Clarence Thomas, Sojourner Truth, Harriet Ross Tubman, C. Delores Tucker, Usher, Denmark Vesey, Alice Walker, Raphael Warnock, Booker T. Washington, Denzel Washington, Cornell West, Colson Whitehead, Justus Williams, Serena Williams, Oprah Winfrey, Malcolm X, and many more.

Completely updated and revised for the first time in over a decade, the African American Almanac looks at the recent challenges—from the Black Lives Movement to Covid-19—and ongoing resilience of our nation, and it shines a light on our momentous and complicated history, the individual accomplishments and contributions of the celebrated and unsung—but no less worthy—people who built our country and who continue to influence American society.

Comprehensive and richly illustrated, it thoroughly explores the past, progress, and current conditions of America. This seminal work is the most complete and affordable single-volume reference of African American culture and history available today, and it illustrates and demystifies the emotionally moving, complex, and often lost history of black life in America!

E-mail to a Friend
Quick Facts
ISBN: 9781578597802
eBook ISBN: 9781578598328
Published 2023
592 pages
700 photos and illustrations
$36.95
Related Titles
You might also enjoy...
---
---