The Supervillain Book: The Evil Side of Comics and Hollywood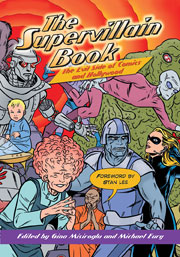 "I wish that The Supervillain Book could be required reading so that all the bizarre knowledge that fans like me have on the subject would be shared by everyone."

Alex Ross, artist of Kingdom Come and Justice (DC Comics)
a comprehensive reference guide to bad guys. an eye-catching read. A fascinating title that will provide hours of evil entertainment.

School Library Journal
What would a good guy be without the bad guy?
Boring. Drawing from sources in comic books, film, live-action and animated television, newspaper strips, toys, and manga and anime, The Supervillain Book exhaustively explores the extraordinary lives and careers of hundreds of overachieving evildoers. This definitive A-to-Z guide to supervillains' nefarious masterminds, sinister societies, and destructive dominators that have battled super- and other fictional heroes is the follow-up to the critically acclaimed Superhero Book.
A must-read for anyone ever enthralled with mythic wickedness, The Supervillain Book investigates each character's origin, modus operandi, costumes, weapons and gadgetry, secret hideouts, chief henchmen, and minions, while serving a super-sized trove of fascinating trivia. It also takes you behind the scenes, describing the creation and development of these marvelously malicious, menacing, and malevolent characters. Splashing the pages in full glorious color are exciting film stills and comic-book images of villains in action, plus entertaining sidebars galore.
The dark side has never been so inviting. "Sinfully good." -- The Daily Bugle. The Supervillain Book contains everything you ever wanted to know about the bad guys in comics, film, and television -- all in one complete volume for the first time. The Supervillain Book is an indispensable guide to pop culture's most menacing masterminds, costumed criminals, sinister societies, and destructive dominators that have battled superheroes and fictional heroes of comics, TV, and film.

E-mail to a Friend
Quick Facts
ISBN: 9781578591787
eBook ISBN: 9781578597949
464 pages
125 photos and illustrations
7-1/8 x 9-1/4 paperback
$39.95
Biography, Comics, Film/Entertainment, Graphic Novels and Pop Culture
Related Titles
You might also enjoy...
Also by Gina Misiroglu...
---
---