The Handy American Government Answer Book: How Washington, Politics and Elections Work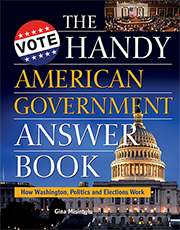 This reference is a meaningful addition to the educational tools [for] students as well as general political observers and voters who want to better understand the issues of the day.

American Reference Books
... provides clear definitions and explanations for nearly 800 areas of governance … a solid resource for high-school students and any general readers with questions about how government works.

Booklist
If there was ever a book you need to wrap up for your political giftee, it's "The Handy American Government Answer Book" by Gina Misiroglu. Imagine pages and pages that make politics easy to understand and that explain how things work.

Bookworm Sez
… answers about 1,000 questions related to the function of the US government, covering basics and contemporary issues … the origins of American government; the Constitution; federalism; the executive, legislative, and judicial branches and related concepts …

Protoview Book News
... this easy-to-navigate book removes complexity from a serious subject: government.

Tampa Tribune
The stakes have never been higher: national security, civil liberties, the economy, the future of the republic.
Yet few outside Washington really understand how our government and political system should work, much less how they operate. On one level, the federal government is a complex, interlocking world veiled in power brokering, bureaucracy, and big money. On another, it's the biggest, richest, most influential organization in the world, for better or worse. While "drain the swamp" and "throw the bums out" resonates with frustrated voters, keeping the federal government functioning requires bureaucratic continuity as well as political skill.
Understanding how modern America is managed and governed is more vital than ever. Filling the breach and answering basic questions about how our very complex government operates and what it promises, The Handy American Government Answer Book: How Washington, Politics, and Elections Work takes a comprehensive look at the historic development of the government, the functions of each branch of government, and the systems, people, and policies that comprise American democracy. This informative book deciphers the news behind the headlines through well-researched answers to nearly 800 common questions such as: How are shifting demographics related to the electorate? What can Americans do to influence their government? Why has trust in the government declined? What is electoral realignment? Who pays for the campaigns of candidates?

E-mail to a Friend
Quick Facts
ISBN: 9781578596393
ePUB ISBN: 9781578596744
400 pages
120 and
7-1/8 x 9-1/4 paperback
$29.95
Related Titles
You might also enjoy...
Also by Gina Misiroglu...
---
---