The Handy Supreme Court Answer Book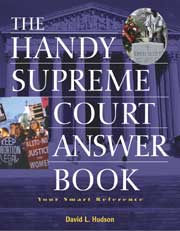 A tip of the hat goes to David L. Hudson Jr., author of the aptly named Handy Supreme Court Answer Book. Hudson, an ABA Journal free≠lancer and scholar at Van≠≠de≠r≠bilt Uni≠ver≠sity's First Amend≠ment Center, produced an accessible history in Q&A format, replete with trivia: Which justice was in a duel? Who was the first law school grad?

ABA Journal
David Hudson's "The Handy Supreme Court Answer Book" is a guide to all aspects of the court. ... Hudson provides a thorough review of the argument, decision, and appeal process. ... a handy guide for keeping up with events.

Costa Mesa Daily Pilot
For a lay audience of inquisitive people, David Hudson Jr.'s Handy Supreme Court Answer Book is remarkably comprehensive and fascinating. Where else could you find out the identity of the tallest justice on the high court?

Legal Times
This is a unique and useful book that provides readers with a broad understanding of the main judgments of all of the Supreme Courts, as well as including smaller details that made each court unique. This is a terrific title....

Library Media Connection
For students, teachers, lawyers, and history buffs, this reference provides answer to many questions about the Supreme Court from its origins in 1789 to the present.

Reference & Research Book News
What's arguably the Supreme Court's most controversial decision?
Which Justices signed the Declaration of Independence? How much do you really know about this nation's highest court? Answers to these questions and many more are found in The Handy Supreme Court Answer Book.

From the origins of the court to practical matters -- the federal judiciary system, the Supreme Court's session schedule, how cases reach the court, and the argument, decision and appeal process -- this book covers it all.

A guide for students, teachers, lawyers, history buffs and anyone interested in the United States' highest court, this book covers the time periods from the first Chief Justice John Jay through the 17th Chief Justice John G. Roberts Jr., exploring the social, cultural and political atmosphere in which the judges served on court. Learn fun trivia like who were the tallest and shortest Supreme Court Justices, important decisions like Brown v. Board of Education (1954) and Miranda v. Arizona (1966), and other interesting facts most people don't know.

E-mail to a Friend
Quick Facts
ISBN: 9781578591961
PDF ISBN: 9781578592364
Kindle ISBN: 9781578592487
ePUB ISBN: 9781578592647
512 pages
126 photos
7.25" x 9.25" paperback
$39.95
Related Titles
You might also enjoy...
Also by David L Hudson, Jr....
---
---