President of the Day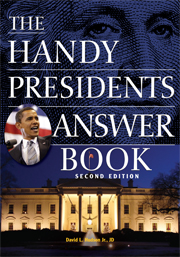 ---
Which president was the first president to visit China?
He participated in the "Kitchen Debate."
His second election was one of the most lopsided in history.
He saw man walk on the moon.
He was known as "Tricky Dick."
---
---

Richard M. Nixon
What foreign policy successes did Nixon have in his administration?
Nixon had many accomplishments in the foreign policy arena. He opened a new era of relationship between the United States and China. Nixon was the first president to visit China, a country with which the U.S. had no diplomatic relations. Nixon and Chinese leader Mao Tse-tung appeared together in public, a sight many would never have predicted given the hostilities between the two nations. The breakthrough in U.S.-China relations arguably forced the Soviet Union to come to the table with the United States because it feared a better relationship between the two powers that were its greatest rivals. This culminated in President Nixon and Soviet leader Leonid Brezhnev signing the Strategic Arms Limitations Talks, called SALT. Under this agreement, the superpowers agreed to curtail missile development and slow the arms race that seemingly threatened world peace.
What was his next political position?
Nixon served as vice president to President Dwight D. Eisenhower for both of Eisenhower's presidential terms. Nixon traveled to various foreign countries during his time as vice president, even debating Soviet premier Nikita Khrushchev in the "Kitchen Debate" in Moscow in 1959.
Whom did he defeat to win the 1972 general election?
Nixon defeated Democrat George McGovern to win reelection in 1972. McGovern served as the U.S. senator from South Dakota. He was an outspoken critic of the Vietnam War and favored busing to fully integrate the public schools--an issue that Nixon spoke out heavily against. Nixon trounced McGovern in one of the most lopsided elections in history. He garnered 520 electoral votes to only 17 for McGovern.
What significant event happened with the American space program?
On July 20, 1969, astronaut Neil Armstrong walked on the moon with the historic words: "I'm going to step off the LM now. That's one small step for man; one giant leap for mankind." Nixon spoke to Armstrong and his colleague Buzz Aldrich, saying: "For every American, this has to be the proudest day of our lives."
When did Nixon move to the U.S. Senate?
Nixon served as a U.S. senator from 1951 to 1953. He won his seat by defeating Democrat Helen Gahagan Douglas, an actress turned politician. His campaign materials linked her to the Communist Party, causing a local newspaper to refer to him as "Tricky Dick"--a nickname that would stick for the rest of his career. He served on the Government Operations Committee, and an investigation subcommittee led by the rabid Joe McCarthy.
From The Handy Presidents Answer Book, Second Edition by David L. Hudson, Jr., JD., (c) Visible Ink Press(R) More than 1,600 things you never knew about our nation's leaders
Dig deeper with these related titles:
The Handy Presidents Answer Book Second Edition


A complete look at every Presidents' who, what, when, where, why, and, how . . . Offering an engaging overview of the U.S.... Read More »

The Handy History Answer Book, 2nd Edition


All things must pass. In an understatement of historic proportions, quite a few things have passed since the end of the last millennium, when The... Read More »

The Handy Supreme Court Answer Book


What's arguably the Supreme Court's most controversial decision? Which Justices signed the Declaration of Independence? How much do you really know... Read More »

The Handy Politics Answer Book


In these politically charged times, interest in the political process is peaking. From the national election debacle in Florida to 9/11 to... Read More »
---