President of the Day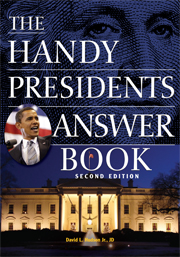 ---
Which president ran a newspaper?
His father-in-law hated him.
He had to check himself into a sanitarium at least five times.
His great-uncle was a chaplain at a Wisconsin prison.
He had freed socialist presidential candidate Eugene Debs, arrested under the Sedition act.
---
---

Warren G. Harding
What newspapers did Harding work for?
Harding first worked as a reporter for the Marion Mirror. With his father's financial assistance, Harding bought the Marion Star with two friends. He later bought out his two associates, and ran the newspaper with his wife. The daily newspaper became a success. Harding also started a weekly newspaper devoted to political issues. The Weekly Star became a platform for Harding to support causes of the Republican Party.
Why did her father oppose the marriage?
Florence's father, Amos Kling, did not like Harding for at least two reasons. First, Harding had written critical editorials of Kling's real estate and money lending practices. But Kling also heard rumors that Harding, who was from a pro-abolitionist family, had African-American blood. By this time, Harding was in the newspaper business and a rival publisher spread the rumor about his heredity. Kling yelled a racial slur at Harding on a public street and threatened to harm him if Harding married his daughter. Many years later, in 1907, Kling apologized for his treatment of his son-in-law and paid for a lengthy European tour for the couple.
What health issue did Harding face in the early 1890s?
Harding had to place himself in a sanitarium in Battle Creek, Ohio, because of a nervous breakdown in 1890. He went back to the sanitarium at least five times, because he had frayed nerves and a nervous stomach.
Who was his great-uncle?
Warren Gamaliel Harding was a Methodist chaplain at a Wisconsin prison.
What famous political figure did Harding grant clemency to while president?
Harding freed Eugene Debs, the prominent labor organizer and Socialist candidate for president, who had vigorously dissented and protested U.S. involvement in World War I. Harding ordered that Debs be freed for time served, but did not grant him an official pardon. Harding also freed many others who had been convicted under the Sedition Act of 1918.
From The Handy Presidents Answer Book, Second Edition by David L. Hudson, Jr., JD., (c) Visible Ink Press(R) More than 1,600 things you never knew about our nation's leaders
Dig deeper with these related titles:
The Handy Presidents Answer Book Second Edition


A complete look at every Presidents' who, what, when, where, why, and, how . . . Offering an engaging overview of the U.S.... Read More »

The Handy History Answer Book, 2nd Edition


All things must pass. In an understatement of historic proportions, quite a few things have passed since the end of the last millennium, when The... Read More »

The Handy Supreme Court Answer Book


What's arguably the Supreme Court's most controversial decision? Which Justices signed the Declaration of Independence? How much do you really know... Read More »

The Handy Politics Answer Book


In these politically charged times, interest in the political process is peaking. From the national election debacle in Florida to 9/11 to... Read More »
---