President of the Day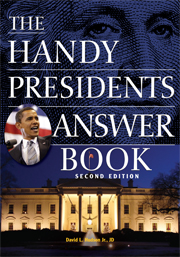 ---
Which president paid a Polish immigrant to be his substitute for the Civil War?
He allegedly fathered a child out of wedlock, nearly ruining his chances for a presidential nomination.
He was the only president to marry in the White House.
He used the veto power more than all previous presidents combined.
He was the only president to serve two non-consecutive terms.
---
---

Grover Cleveland
How did Cleveland avoid war service?
Cleveland avoided the draft and service in the Civil War by paying Polish immigrant George Brinske one hundred and fifty dollars to be his substitute. Cleveland claimed, rightfully according to his biographers, that he was the chief supporter of his mother and sisters.
Did Cleveland father a child out of wedlock?
Cleveland allegedly fathered a child out of wedlock with a Maria Halpin, when Cleveland was sheriff of Erie County. Maria named the child Oscar Folsom Cleveland--after Cleveland and his law partner and future father-in-law. Cleveland allegedly had the unstable Halpin placed in a mental institute and paid for the child's expenses at an orphanage. The issue nearly doomed Cleveland's presidential chances in 1884. Some ardent Republicans would chant at rallies: "Ma! Ma! Where's my pa? Gone to the White House, ha, ha, ha."
Did he marry?
Yes, forty-nine-year-old Grover Cleveland married twenty-one-year-old Frances Folsom at the White House on June 2, 1886. He remains the only president to marry in the White House.
What presidential power did Cleveland use more than all previous presidents combined?
President Grover Cleveland believed strongly in the veto power. Just as he was called the "Veto Governor," he became the "Veto President." He vetoed more than four hundred bills during his first term in office--more than all other previous presidents combined. In his two terms, Cleveland vetoed 586 bills. The only president who vetoed more bills than Cleveland was Franklin Delano Roosevelt, who served three full terms and part of a fourth term. Many of Cleveland's vetoes were against bills that would provide pensions and private relief to many veterans. Cleveland believed in limited government and fiscal conservatism, which caused him to veto many bills that called for great government spending.
What is unique about Grover Cleveland's tenure as president?
Grover Cleveland is the only person in American history to serve two nonconsecutive terms as president of the United States. He is both the twenty-second and twenty-fourth presidents in American history, as he lost after his first term to Republican Benjamin Harrison. However, Cleveland defeated Harrison in a rematch four years later to return to the White House for a second term.
From The Handy Presidents Answer Book, Second Edition by David L. Hudson, Jr., JD., (c) Visible Ink Press(R) More than 1,600 things you never knew about our nation's leaders
Dig deeper with these related titles:
The Handy Presidents Answer Book Second Edition


A complete look at every Presidents' who, what, when, where, why, and, how . . . Offering an engaging overview of the U.S.... Read More »

The Handy History Answer Book, 2nd Edition


All things must pass. In an understatement of historic proportions, quite a few things have passed since the end of the last millennium, when The... Read More »

The Handy Supreme Court Answer Book


What's arguably the Supreme Court's most controversial decision? Which Justices signed the Declaration of Independence? How much do you really know... Read More »

The Handy Politics Answer Book


In these politically charged times, interest in the political process is peaking. From the national election debacle in Florida to 9/11 to... Read More »
---