President of the Day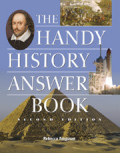 ---
Who drew "a line in the sand"?
He drew it with the help of a coalition of 39 nations.
He acted to protect U.S. oil supplies.
He defended Kuwait.
He did so in reaction to Saddam Hussein.
---
---

George H. W. Bush
President George H.W. Bush (1924- ) was reacting to Iraqi leader Saddam Hussein's (1937 act of aggression when on August 2, 1990, his troops invaded neighboring Kuwait. The United Nations (UN) gave Iraq until January 15, 1991, to withdraw from Kuwait. Iraq failed to comply. The "line in the sand" that Hussein crossed was soon defended: On January 16, 1991, Operation Desert Storm was launched to liberate the Arab nation of Kuwait from Iraq, whose military dictator had not only invaded Kuwait but proclaimed it a new Iraqi province. Bush averred, "This will not stand," and in order to protect U.S. oil supplies in the country, the president mobilized U.S. forces, which were joined by a coalition of 39 nations, to soundly and quickly defeat Iraq.
From The Handy History Answer Book by Rebecca Ferguson, (c) 2005 Visible Ink Press(R) More than a thousand questions explore a cast of thousands, including Socrates, an early advocate of the question-and-answer format.
Dig deeper with these related titles:
The Handy Presidents Answer Book Second Edition


A complete look at every Presidents' who, what, when, where, why, and, how . . . Offering an engaging overview of the U.S.... Read More »

The Handy History Answer Book, 2nd Edition


All things must pass. In an understatement of historic proportions, quite a few things have passed since the end of the last millennium, when The... Read More »

The Handy Supreme Court Answer Book


What's arguably the Supreme Court's most controversial decision? Which Justices signed the Declaration of Independence? How much do you really know... Read More »

The Handy Politics Answer Book


In these politically charged times, interest in the political process is peaking. From the national election debacle in Florida to 9/11 to... Read More »
---