Werewolf Fact of the Day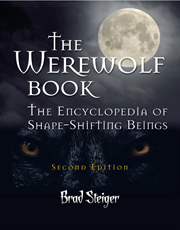 ---
What 1981 movie revived werewolf stories in theaters?
Until this movie, it was rare to feature an actual transformation.
The makeup effects won an Academy Award.
The story tells of two Americans hitchhiking in the English countryside.
---
---
An American Werewolf in London
(movie, 1981)
When An American Werewolf in London opened in motion picture theaters in 1981, it offered horror buffs and werewolf lovers just the proper mix of dark, contemporary comedy and creepy obeisance to the old black and white creature-feature classics. While The Howling, which appeared the year before, has excellent special effects and must receive its share of the credit for once again making werewolves a viable box office attraction, An American Werewolf in London presents Rick Baker's Academy Award-winning makeup wizardry which allows the audience to see virtual microscopic close-ups of each agonizing step that the victim of a werewolf's bite must undergo to achieve the process of transmutation. With no detection of stop-action photography and with no awareness of the movie magic involved, we witness the actor grimacing and screaming in horror as his body sprouts coarse hair, his hands stretch into paws, and his torso twists painfully from bipedal human to four-legged wolf. The effect on the viewers is visceral, forcing them to participate vicariously in the nightmarish process of transmutation. Not since the classic The Curse of the Werewolf (1961) had the audience witnessed such a cinematic transmutation.
The storyline focuses on two young Americans, David (David Naughton) and Jack (Griffin Dunne), who are hitchhiking around the English countryside. Although they are warned to beware the full moon and to stay aware from the moors, they find themselves off the main road, near the moors, and alone under a full moon. They are attacked by a large wolf that kills Jack and wounds David before the villagers shoot it. Once struck down, the creature is revealed as having been a werewolf when it is transformed back into its human form.
David is taken to a hospital, where he is soon experiencing a series of bizarre and frightening visions and dreams in which his friend Jack--who steadily decomposes a bit more in each subsequent ghostly visit--warns him that the bites that he received in the scuffle on the moors will turn him into a werewolf. Jack counsels suicide and a quiet passage to the next life rather than becoming a blood-lusting monster, but by now David has fallen in love with his nurse (Jenny Agutter) and chooses to believe that he is merely suffering from some mental aberration rather than receiving warnings of werewolf transformation from a ghost. By the time that he realizes he is truly fated to become a werewolf, he is undergoing the excruciating pain of transmutation. Once the process has been completed, he can only fulfill his gory destiny and terrorize London as a werewolf.
Naughton, who achieved earlier fame in a series of television commercials as the congenial, dancing Dr. Pepper enthusiast, underwent a rigorous physical training program to get himself in shape for the nude werewolf transmutation scenes. Although Dunne may steal a few scenes as his steadily decomposing buddy, Naughton portrays his character as likeable and ordinary, thus accentuating the tragedy and the underlying threat that anyone who might be bitten by a werewolf could suffer a similar fate. Naughton has since appeared in an occasional film in the horror genre, such as Amityville: A New Generation (1993), Big Bad Wolf (2006), and Guardians of Luna (voice, 2011), and he has frequently guest starred on television programs, from Seinfeld and Melrose Place to Diagnosis Murder and Big Love.
Director John Landis, who previously demonstrated his gift for developing off-beat characterizations in National Lampoon's Animal House (1978) and The Blues Brothers (1980), employs his sense of the bizarre and darkly humorous to good advantage in An American Werewolf in London. Landis joins the fun by giving himself a cameo as a man who is thrown through a London shop window by the rampaging werewolf.
From The Werewolf Book: The Encyclopedia of Shape-Shifting Beings, Second Edition by Brad Steiger, (c) 2012 Visible Ink Press(R) Steiger's homage to the beast within provides meaty facts for the lycanthropic in all of us.
Dig deeper with these related titles:
The Werewolf Book: The Encyclopedia of Shape-Shifting Beings, Second Edition


When Darkness Reigns and the Full Moon Glows, Terror Emerges to Stalk the Unsuspecting… Read More »

The Vampire Book: The Encyclopedia of the Undead, Third Edition


The Ultimate Collection of Vampire Facts and Fiction Death and immortality, sexual prowess and surrender, intimacy and... Read More »

Real Monsters, Gruesome Critters, and Beasts from the Darkside


Beware! Monsters are Everywhere Monsters have been spotted everywhere, not just slithering under a child's bed or lurking in... Read More »

Unexplained! Strange Sightings, Incredible Occurrences, and Puzzling Physical Phenomena, 2nd Edition


The truth is out there, but looking for it is the real fun. Now, countless X-philes and insatiable fans of the supernatural, occult, and UFOs can... Read More »

Real Zombies, the Living Dead, and Creatures of the Apocalypse


The macabre secret history of the undead . . . Featuring 30 chilling stories of real life zombie encounters, this comprehensive and... Read More »

Real Vampires, Night Stalkers, and Creatures from the Darkside


Not only do vampires exist, they walk among us! Paranormal researcher extraordinaire, Brad Steiger, reveals that real vampires are not immortal, do... Read More »
---