Werewolf Fact of the Day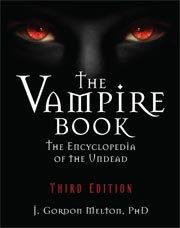 ---
Which country has a cultural belief that vampires are dead werewolves?
Its inhabitants believed the dead might become vrykolakas.
They conquered neighboring Slavic peoples, who influenced legends.
Their resuscitated corpses were called a variation of the term for wolfpelt.
They gained some of their beliefs from the Eastern Orthodox Church.
---
---
Greece
Thus, as the church came to dominate Greek religious life, it proposed that the dead might become vrykolakas if they died in an excommunicated state, if they were buried without the proper church rites, or if they died a violent death. To these it added two other causes: stillborn children or those who were born on one of the great church festivals. These causes expanded the earlier Greek notions of those who died under a familial curse or in great sin. The Christianization of the Slavic and Balkan peoples effectively began toward the end of the first Christian millennium and made impressive gains during the tenth through the twelfth centuries. As the Eastern Orthodox Church gained dominance in Russia, Romania, Hungary, and among the southern Slavs, beliefs from those countries flowed back into Greece and began to alter still further the understanding of the revenant, transforming it into a true vampire. The significant concept was that of the werewolf. It was from the Slavs that the word vrykolakas, derived from an old Slavic term for wolfpelt, was adopted as the Greek designation for a resuscitated corpse.
Some Slavic people believed that werewolves became vampires after they died. Lawson argued that the Slavonic term came into Greece to describe the werewolf (a term he still found in use in a few places at the beginning of the twentieth century), but gradually came to designate the revenant or vampire. The Greeks also absorbed a Slavic view of the possible vicious nature of vampires. The ancient Greek revenant was essentially benign and returned primarily to complete some unfinished family business. On occasion it committed an act of vengeance, but always one that most would consider logical. It did not enact chaotic violence.
From The Vampire Book: The Encyclopedia of the Undead, Third Edition by J. Gordon Melton, Ph.D., (c) 2011 Visible Ink Press(R) This exhaustive guide to vampires will quench your thirst for facts, biographies, definitions, and more.
Dig deeper with these related titles:
The Werewolf Book: The Encyclopedia of Shape-Shifting Beings, Second Edition


When Darkness Reigns and the Full Moon Glows, Terror Emerges to Stalk the Unsuspecting… Read More »

The Vampire Book: The Encyclopedia of the Undead, Third Edition


The Ultimate Collection of Vampire Facts and Fiction Death and immortality, sexual prowess and surrender, intimacy and... Read More »

Real Monsters, Gruesome Critters, and Beasts from the Darkside


Beware! Monsters are Everywhere Monsters have been spotted everywhere, not just slithering under a child's bed or lurking in... Read More »

Unexplained! Strange Sightings, Incredible Occurrences, and Puzzling Physical Phenomena, 2nd Edition


The truth is out there, but looking for it is the real fun. Now, countless X-philes and insatiable fans of the supernatural, occult, and UFOs can... Read More »

Real Zombies, the Living Dead, and Creatures of the Apocalypse


The macabre secret history of the undead . . . Featuring 30 chilling stories of real life zombie encounters, this comprehensive and... Read More »

Real Vampires, Night Stalkers, and Creatures from the Darkside


Not only do vampires exist, they walk among us! Paranormal researcher extraordinaire, Brad Steiger, reveals that real vampires are not immortal, do... Read More »
---