Werewolf Fact of the Day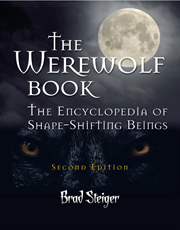 ---
What 1941 werewolf classic was remade in 2010?
Universal Pictures revisited the classic.
It won an Academy Award for makeup.
It was originally supposed to be released for Halloween 2009.
It stars Benicio Del Toro, Anthony Hopkins and Emily Blunt.
---
---
The Wolf Man
(movie, 2010)
There was great excitement in March 2006, when werewolf aficionados learned that Universal Pictures was remaking The Wolf Man. Although there was some curiosity when Puerto Rican actor Benicio Monseratte Rafael Del Toro Sanchez was revealed as the choice to play the Wolf Man, it was assumed that adjustments would be made in the script as with Lon Chaney Jr. in the original film version to explain how an American would be Sir John Talbot's son. Besides, film buffs knew that Benicio Del Toro was an excellent actor who had been a fan of the original film and who was a collector of werewolf memorabilia. When it was announced that Anthony Hopkins would play Sir John Talbot, Emily Blunt would be Gwen Conliffe, and Hugo Weaving would enact Inspector Francis Alberline, it seemed that a dream cast had been assembled to do proper homage to a classic motion picture that was dear to the hearts of werewolf fans worldwide.
The film's release was first planned to be in time for a Halloween audience in 2009. Then it was postponed to February 12, 2010.
When The Wolf Man was at last shown to an eager audience of werewolf and horror enthusiasts, the fair-minded among them reported that the remake must be judged on its own merits as a modern revamping of the original with state-of-the-art CGI transformations and incredible werewolf makeup. (Rick Baker would earn an Academy Award for makeup in 2011). Those who were expecting a faithful remake of the original film announced in no uncertain terms that they considered the new version to be a resounding disappointment. Those who had never seen the original and who had no expectations concerning the film other than that they wished to see a competently made werewolf story with some chills and thrills were likely to be satisfied.
The basic thread of the storyline remains the same: Lawrence Talbot is bitten by a werewolf, turns into a lycanthrope during the full moon, loathes and despises his blood lust, and is eventually killed by a silver bullet (not a silver-headed cane, as in the original). Other than the bare bones of the plot, there is little that would reflect the original motion picture classic.
In the 2010 version of The Wolf Man, Talbot Hall is no longer in Wales in contemporary times, but in Blackmoor Woods, in the English countryside of 1891. Lawrence Talbot has not been studying abroad, but has become a renowned Shakespearean actor. The film begins with Maleva, the gypsy (Geraldine Chaplin), reciting the famous rhyme: "Even a man who is pure of heart and says his prayers by night may become a wolf when the wolfs bane blooms and the autumn moon is bright." Gwen Conliffe offered the verse in the original film, but a good many fans of the 1941 classic "remember" the old gypsy woman played by Maria Ouspenskaya as having pronounced the curse so that liberty taken with the original did not really matter.
In the new film, Lawrence is committed to an insane asylum by Sir John as a boy after he believed that he had seen his mother commit suicide. Lawrence also has a brother Ben (Simon Merrells) in this version who is engaged to Gwen Conliffe. After Ben is mauled and murdered by a monstrous creature in the forest, Gwen, who only knows that her fianc has disappeared, goes to Lawrence, who is performing Hamlet in London, and asks him to come home to search for his brother. Lawrence travels by train to Blackmoor and learns from Sir John that Ben's body had just been found and is being kept at the local slaughterhouse. The butcher hands over Ben's personal effects, and Lawrence is intrigued by a medallion that shows a monk flanked by two wolves. Locals in a bar insist that gypsies camped outside of town murdered Ben. Others among them remember that the town once suffered werewolf attacks.
Lawrence visits the gypsy camp that night and meets Maleva, who warns him that something evil killed his brother. Suddenly, a large wolflike creature attacks the camp, slaughtering a number of gypsies. Lawrence tries to rescue a young boy from the vicious monster, but he is bitten on the shoulder before the beast is driven away by a number of armed townspeople.
Gwen nurses Lawrence back to health, but awful dreams have already invaded the actor's mind. Sir John's manservant, Singh (Art Malik), shows Lawrence the silver bullets that he always keeps handy and warns him that something dark and evil dwells in the dark woods of Blackmoor. Lawrence sends Gwen back to London, and after he has witnessed Sir John being bound by Singh and locked in a shrine to Solana, Lawrence's mother, he attempts to leave Talbot Hall. It is then that Lawrence turns into the Wolf Man, killing a number of townspeople who had been searching the woods in a mission to track down the monster.
Sir John leads the police to the place where his confused and bloody son is hiding, and Lawrence is taken to the same asylum in London, where he was incarcerated as a boy. Later, Sir John visits Lawrence and confesses that many years before, while hunting in India, he was bitten by a boy who infected him with lycanthropy. It is now clear to Lawrence that he had not witnessed his mother commit suicide, but he had seen his father transform into a werewolf and kill her.
After being subjected to a number of experiments by a sadistic doctor, Lawrence changes into the Wolf Man and charges through London with the intent of returning to Talbot Hall. He kills many people before making his way to Gwen's shop. Learning the terrible truth at the same time that she realizes she loves Lawrence, she sets about studying lycanthropy in an effort to help him.
The climax of the film occurs when the full moon rises and Sir John and Lawrence transform into werewolves and engage in a fight to the death. Although the older alpha male appears at first to be winning the struggle, Lawrence manages to kick his father into a fireplace, where he bursts into flames. Lawrence also engages in the time-honored rite of beheading a werewolf.
Gwen and Inspector Aberline arrive at about the same time and witness Lawrence as a werewolf standing victorious against the backdrop of Talbot Hall, now engulfed in flames. Aberline fires at the creature with his revolver, which is loaded with silver bullets, but Gwen jars the inspector's arm so he misses. The Wolf Man flees into the woods of Blackmoor with the inspector and a mob of townspeople in close pursuit. Gwen finds him first and dispatches Lawrence with a silver bullet, the only thing, Maleva told her, that, together with someone who loved him pulling the trigger, could ever kill a werewolf. As the flames continue to consume Talbot Hall, Gwen muses: "It is said there is no sin in killing a beast, only in killing man. But where does one begin and the other end?"
Inspector Aberline is wondering the same thing, as he looks up at the full moon and gingerly touches the wound that the Wolf Man inflicted upon him.
From The Werewolf Book: The Encyclopedia of Shape-Shifting Beings, Second Edition by Brad Steiger, (c) 2012 Visible Ink Press(R) Steiger's homage to the beast within provides meaty facts for the lycanthropic in all of us.
Dig deeper with these related titles:
The Werewolf Book: The Encyclopedia of Shape-Shifting Beings, Second Edition


When Darkness Reigns and the Full Moon Glows, Terror Emerges to Stalk the Unsuspecting… Read More »

The Vampire Book: The Encyclopedia of the Undead, Third Edition


The Ultimate Collection of Vampire Facts and Fiction Death and immortality, sexual prowess and surrender, intimacy and... Read More »

Real Monsters, Gruesome Critters, and Beasts from the Darkside


Beware! Monsters are Everywhere Monsters have been spotted everywhere, not just slithering under a child's bed or lurking in... Read More »

Unexplained! Strange Sightings, Incredible Occurrences, and Puzzling Physical Phenomena, 2nd Edition


The truth is out there, but looking for it is the real fun. Now, countless X-philes and insatiable fans of the supernatural, occult, and UFOs can... Read More »

Real Zombies, the Living Dead, and Creatures of the Apocalypse


The macabre secret history of the undead . . . Featuring 30 chilling stories of real life zombie encounters, this comprehensive and... Read More »

Real Vampires, Night Stalkers, and Creatures from the Darkside


Not only do vampires exist, they walk among us! Paranormal researcher extraordinaire, Brad Steiger, reveals that real vampires are not immortal, do... Read More »
---