Black First of the Day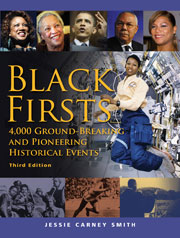 ---
Who was the first Black entertainer to host his own show on national television?
He was born in Montgomery, Alabama and grew up in Chicago.
He was one of the most successful singers of popular music.
In 1948, he led the first black jazz group to have its own sponsored program on radio.
"Straighten Up and Fly Right," his first record, sold more than five hundred thousand copies.
---
---
1956
Nat King Cole [Nathaniel Coles] (1919-1965)
Entertainer Nat King Cole (1919-1965) became the first major black performer to host his own television show, The Nat King Cole Show. The show was first aired on October 3 and ran for sixty-four weeks. The show received low ratings from the start. When no commercial sponsor could be secured, the show was canceled and went off the air in December 1957.
Sources: Bogle, Primetime Blues, pp. 75-77; Contemporary Black Biography, vol. 17, pp. 37-41; Smith, Notable Black American Men, pp. 215-17.
From Black Firsts: 4,000 Ground-Breaking and Pioneering Events by Jessie Carney Smith, © 2013 Visible Ink Press®. A celebration of achievement, accomplishments and pride.
Dig deeper with these related titles:
Black Firsts: 4,000 Ground-Breaking and Pioneering Events, Third Edition


Achievement engenders pride, and the most significant accomplishments involving people, places, and events in black history are gathered in Black... Read More »

African American Almanac: 400 Years of Triumph, Courage and Excellence


A wealth of milestones, inspiration, and challenges met. . . The most complete and affordable single-volume reference of African... Read More »

Freedom Facts and Firsts: 400 Years of the African American Civil Rights Experience


Spanning nearly 400 years from the early abolitionists to the present, this guide book profiles more than 400 people, places, and events that have... Read More »

Black Heroes


"If there is no struggle, there is no progress," wrote Frederick Douglass. "This struggle may be a moral one; or it may be a physical one; or it may... Read More »
---