Black First of the Day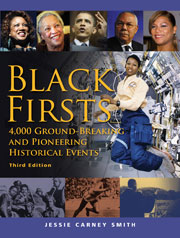 ---
Who was the first Black American to win the Nobel Peace Prize?
He was born in the slums of Detroit.
In 1950, he was was the first black person named to the faculty of Arts and Sciences at Harvard, when he became professor of government.
Other blacks who have received Nobel Prizes are Martin Luther King Jr. (the youngest black so honored) in 1964, Albert J. Luthuli of South Africa in 1960, Desmond Tutu in 1984, and Nelson Mandela in 1993.
In 1968, he became undersecretary general of the United Nations.
---
---
1950
Ralph J. Bunche (1903-1971)
Ralph J. Bunche (1903-1971) was the first black person named to the faculty of Arts and Sciences at Harvard, when he became professor of government. He resigned in 1952 because of pressing obligations at the United Nations, where he was Undersecretary General. From 1959 to 1969 he served as the first black member of Harvard's board of overseers. Bunche, who was born in Detroit and traced his mother's family ancestry back to slavery, knew much less about his father's roots. Bunche's childhood was punctuated by his mother's death in 1917, and after that he never saw his father again; he moved to Los Angeles with his grandmother in 1918, and it was she who encouraged him to attend college. He graduated summa cum laude from the University of California at Los Angeles in 1922. A fellowship from Harvard led to his earning a master's degree in 1928, after which he declined Harvard's offer of support for doctoral study and accepted an offer to organize the political science department at Howard University. Bunche took leave the next year, however, and returned to Harvard for doctoral study. In 1934 he won the prize for the best dissertation. His first book, World View of Race, followed two years later. Bunche had a rich catalog of scholarly research experience, doing fieldwork in the South as he worked with Swedish social scientist Gunnar Myrdal on the project that was published in 1944 as An American Dilemma: The Negro Problem and American Democracy. Rejected for the World War II draft for physical reasons, he worked for the National Defense Program Office of Information and then for the State Department. He participated in conferences relating to formation of the United Nations, and became the first black to serve on the U.S. delegation to the United Nations General Assembly. When he was appointed undersecretary, he became the highest-ranking U.S. official at the United Nations. One of his crowning achievements was receipt of the Nobel Peace Prize in 1950; he was the first black person to receive the honor. He remained at the United Nations until 1971, when his poor health resulted in his being relieved of his duties. Despite the recognition and general acclaim that Bunche received for his work at the United Nations, he was considered too conservative and too racially conciliatory by some of the black leaders of his day. His papers are housed at UCLA and at the U.N. archives in New York.
Sources: Sources: Encyclopedia of Black America, pp. 198-99; Hornsby, Milestones in Twentieth-Century African-American History, pp. 47, 49, 73, 158; Contemporary Black Biography, vol. 4, pp. 41-45; Sollors, Blacks at Harvard, p. 6; Smith, Notable Black American Men, pp. 152-56.
From Black Firsts: 4,000 Ground-Breaking and Pioneering Events by Jessie Carney Smith, © 2013 Visible Ink Press®. A celebration of achievement, accomplishments and pride.
Dig deeper with these related titles:
Black Firsts: 4,000 Ground-Breaking and Pioneering Events, Third Edition


Achievement engenders pride, and the most significant accomplishments involving people, places, and events in black history are gathered in Black... Read More »

African American Almanac: 400 Years of Triumph, Courage and Excellence


A wealth of milestones, inspiration, and challenges met. . . The most complete and affordable single-volume reference of African... Read More »

Freedom Facts and Firsts: 400 Years of the African American Civil Rights Experience


Spanning nearly 400 years from the early abolitionists to the present, this guide book profiles more than 400 people, places, and events that have... Read More »

Black Heroes


"If there is no struggle, there is no progress," wrote Frederick Douglass. "This struggle may be a moral one; or it may be a physical one; or it may... Read More »
---