Black First of the Day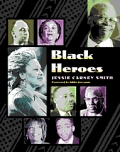 ---
Who was the first black to win a Pulitzer Prize for a book, on which a subsequent television miniseries was based?
When he was only fifteen years old, he graduated from high school.
He was born in Ithaca, New York.
The television series became the most-watched dramatic show in television history.
He devoted much of his free time to reading, writing letters, and writing adventure stories.
---
---
1977
Alex [Alexander Murray Palmer] Haley (1921-1992)
Alex Haley is a writer whose best-known work, Roots: The Saga of an American Family, recounts the experiences of an African ancestor who was sold into slavery and shipped to America in the mid-seventeenth century. Roots sold more than six million copies and inspired a television miniseries that prompted still further interest in black heritage.
Haley was born in Ithaca, New York, in 1921. His father, Simon Alexander Haley, was a student at the time of Haley's birth, and he later became a professor at various southern institutions. Haley's mother, Bertha George Haley, died when Haley was only ten years old. But Haley enjoyed a sizeable extended family, and the various relatives congregated most summers in Henning, Tennessee, where Haley's grandfather ran a flourishing lumber business.
When he was only fifteen years old, Haley graduated from high school. He studied education for two years, then joined the Coast Guard during World War II. His first position was as a kitchen worker, but before the war ended he was a cook. After the war, Haley remained in the Coast Guard. There he traveled extensively and developed his writing skills by writing letters home and assisting other sailors with their correspondences. In addition, Haley produced nonfiction reports on various matters of interest within the service. Before leaving the Coast Guard in 1959, after a twenty-year stint, he began writing fiction, mostly maritime tales derived from his own observations or the experiences of his fellow sailors.
Upon returning to civilian life, Haley settled in Greenwich Village, a Bohemian quarter of New York City, and determined to support himself as a writer. Journalism initially proved more lucrative than fictional storytelling. Haley proved particularly adept as an interviewer. In 1962, for instance, he executed a compelling Playboy interview with the great jazz trumpeter Miles Davis.
Among Haley's other prominent subjects for his Playboy interviews was the controversial Malcolm X, a former Black Muslim and separatist who became a proponent of Pan African culture before his assassination in 1965. Haley also collaborated with Malcolm X on the latter's Autobiography of Malcolm X, which appeared shortly after the assassination. This volume has come to be regarded as a classic account of black issues and experiences during the post-World War II period and the civil rights era.
Prior to the appearance of The Autobiography of Malcolm X, Haley again became interested in the tales his grandmother had shared with relatives during the summers spent in Henning. His grandmother would tell of Toby, a slave from Africa, and she enhanced her tale with the few African words handed down from generation to generation within the family. Through the assistance of a linguist, Haley derived the meaning of his grandmother's African words. In addition, he conducted archival research that led to the discovery of another African ancestor, one who had worked as a slave in North Carolina.
Throughout much of the ensuing decade Haley immersed himself in genealogical study and history. He uncovered the existence of ship records noting the ancestor of his grandmother's tales, and he traveled to Africa to listen to village historians knowledgeable in the slave trade. In Gambia he managed to relate his grandmother's tales to histories involving the Kinte clan, whose members had been captured and shipped to America, where they were sold as slaves.
Haley ultimately succeeded in fashioning a stirring account of his ancestors, notably Kunta Kinte, and he published that account in 1976 as Roots: The Saga of an American Family. Despite its seemingly uncommercial subject matter, Roots soon became a best-seller in the United States. Some historians questioned Haley's rendering of the slave trade, and some critics expressed reservations about the manner in which Haley's account combined facts with fictional elements. But other critics lauded Roots as a compelling tale with particular relevence within the fields of American history and, more specifically, Afro-American studies. Book buyers throughout the United States testified to the appeal of Roots as both accomplished storytelling and provocative history. The book eventually earned both a special Pulitzer Prize and a citation from the National Book Awards.
In 1977, while sales of Roots were still strong, a twelve-hour adaptation appeared on American television. Like the book, the television version proved extremely popular, and it sparked still further interest in the field of black studies. The show has since ranked among television's most widely viewed programs.
The popularity of Roots in both literary and televised forms brought Haley immense recognition and success, and for much of the ensuing decade the works continued to be the focus of his professional existence. His related activities included the writing of Roots: The Next Generation, a television sequel to the earlier miniseries. In addition, Haley helped establish the Kinte Corporation, which promoted research into black American genealogy.
By the late 1980s Haley had come to realize that Roots was overwhelming his other literary projects. He thus withdrew from his Los Angeles home and returned to Tennessee, where he intended to concentrate on a variety of subjects, including a history of Henning, Tennessee, and a biography of C. J. Walker, America's first female, self-made millionaire. He also contributed to the development of Alex Haley's Queen, a television miniseries on the life of his grandmother.
While he pursued these enterprises, Haley also appeared regularly as a speaker. He was traveling to an engagement in Seattle, Washington, when he suffered a fatal heart attack on February 10, 1992. At the time of his death Haley was separated from his third wife, television writer Myra Lewis. He was also the father of three children. Alex Haley's Queen appeared on television the year after his death. Roots, meanwhile, remains prominent as both a book and as a series available on video.
From Black Heroes by Jessie Carney Smith, © Visible Ink Press® Recognizes and celebrates important African American lives.
Dig deeper with these related titles:
Black Firsts: 4,000 Ground-Breaking and Pioneering Events, Third Edition


Achievement engenders pride, and the most significant accomplishments involving people, places, and events in black history are gathered in Black... Read More »

African American Almanac: 400 Years of Triumph, Courage and Excellence


A wealth of milestones, inspiration, and challenges met. . . The most complete and affordable single-volume reference of African... Read More »

Freedom Facts and Firsts: 400 Years of the African American Civil Rights Experience


Spanning nearly 400 years from the early abolitionists to the present, this guide book profiles more than 400 people, places, and events that have... Read More »

Black Heroes


"If there is no struggle, there is no progress," wrote Frederick Douglass. "This struggle may be a moral one; or it may be a physical one; or it may... Read More »
---