The Handy State-by-State Answer Book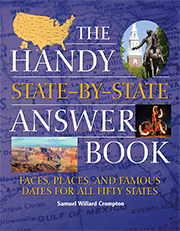 This accessible book covers interesting trivia for each state. Information includes the state's early history, settlement details, and contemporary history. What sets this apart from a typical state-facts resource is the browsable nature of the Q&A format

Booklist
... the perfect book to browse ...

Bookworm Sez
... builds an appreciation for how all fifty states are alike while pointing out how each is different and how the differences enrich us as a nation.

Children's Literature
… answers questions about each state's signs and symbols, size, weather, unique characteristics, people, events, and history, settlement, and colonization, as well as providing information on its nickname, capital, and date of statehood.

Protoview Book News
Rather than just dry facts and mundane historical information, the author includes questions to pique the reader's interest … Consider this an important addition that should be added to libraries as a source for credible information, but also suggested for readers that have an interest in our country's structure by state.

VOYA
Red State.
Blue state. Rust belt. Sun belt. East coast. West Coast. The Great Plains and Rocky Mountains. The United States of America is a diverse country. It's a melting pot of people, a blend of terrain, and a mix of rural and urban. It's an amalgamation of states. From sea to shining sea,
The Handy State-by-State Answer Book: Faces, Places, and Famous Dates for All Fifty States
explores the history, growth, politics, people, and the unique character of each of the 50 states. It answers basic facts, looks at each state's distinguishing features, and covers how colonies, territories, and land purchases shaped the United States of America.
This useful resource is a convenient place to look for state facts and trivia. It examines the differences—and similarities—between the states. It covers the events and personalities that influenced and affected each state, its history, government, cities, culture, and places of interest, answering questions such as Just how big is Alaska? Did California play any role in the American Civil War? How long did Spain rule Florida? Is the City of Chicago really a state unto itself? How did New Hampshire become such a force in the selection of each U.S. president? Are there as many Italians—and perhaps Sicilians—in New Jersey as The Sopranos seems to suggest? Why did the Civil War start in South Carolina, rather than, say, New Orleans? When did Texas become known as "the land of big oil"? What do they mean by the license plate "Virginia is for lovers"?

E-mail to a Friend
Quick Facts
ISBN: 9781578595655
PDF ISBN: 9781578596041
Kindle ISBN: 9781578596065
ePUB ISBN: 9781578596058
560 pages
140 and
7.125 x 9.25 paperback
$54.95
Related Titles
You might also enjoy...
Also by Samuel Willard Crompton...
---
---