Black Heroes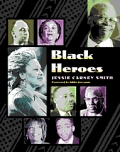 "Brimming with information and more than 200 photographs, Black Heroes will intrigue and inspire all those who seek to know more about our nation's history."

Atlanta Metro
"...a classic guide..."

Oklahoma City Oklahoman
"If there is no struggle, there is no progress," wrote Frederick Douglass.
"This struggle may be a moral one; or it may be a physical one; or it may be both moral and physical; but it must be a struggle. Power concedes nothing without a demand."
To recognize and celebrate African American achievement over the past 100 years,
Black Heroes
profiles 150 individuals who have made a lasting and profound impact on our culture. Now available for the first time in paperback,
Black Heroes
is a who's who of cultural importance to all Americans. Wherever they've made their mark--politics, art, sports, entertainment, literature, civil rights, business, medicine, education, or law--the heroes represented in this book are men and women who have struggled against the odds and advanced to miraculous heights, in the process inspiring countless others. Distinguished scholar Jessie Carney Smith, author of the best-selling
Black Firsts
, has created yet another classic guide to extraordinary individuals and their accomplishments that is sure to please readers of any age.
Brimming with information and more than 200 photographs,
Black Heroes
details the stories of men and women who have struggled against the odds and advanced to miraculous heights, in the process inspiring countless others. Contributors include poet and educator Nikki Giovanni, who also contributed the foreword; author and music educator D. Antoinette Handy; historian and author Bettye Collier Thomas; Debra Newman Ham, historian, author, and educator; historian, author, and educator Darlene Clark Hine; Marcus Garvey scholar, author, and historian Tony Martin; and Nellie Y. McKay, scholar, educator and writer who, with Henry Louis Gates, edited
The Norton Anthology of African American Literature
. To help you locate information quickly,
Black Heroes
includes a general index and an index by occupation.
A partial list of profiles:
Hank Aaron
Kareem Abdul-Jabbar
Alvin Ailey
Muhammad Ali
Marian Anderson
Maya Angelou
Arthur Ashe
Josephine Baker
Ernie Banks
Count Basie
Romare Bearden
Harry Belafonte
Mary McLeod Bethune
Julian Bond
Edward C. Brooke
Gwendolyn Brooks
James Brown
Ron Brown
Ralph Bunche
Stokely Carmichael
Shirley Chisholm
Eldridge Cleaver
Johnnie Cochran
Nat "King" Cole
Bill Cosby
Dorothy Dandridge
Angela Davis
Sammy Davis Jr.
The Delany Sister
David N. Dinkins
Aaron Douglas
W.E.B. Du Bois
Marian Wright Edelman
Kenneth "Babyface" Edmonds
Joycelyn Elders
Duke Ellington
Medgar W. Evans
Louis Farrakhan
Ella Fitzgerald
Aretha Franklin
Marcus Garvey
Henry Louis Gates Jr.
Nikki Giovanni
Whoopie Goldberg
Berry Gordy
Bryant C. Gumbel
Alex Haley


W.C. Handy


Patricia Harris
Jimi Hendrix
Lena Horne
Langston Hughes
Jesse L. Jackson
Mae C. Jemison
Earvin "Magic" Johnson
John H. Johnson
Robert L. Johnson
Quincy D. Jones
Barbara Jordan
B.B. King
Spike Lee


Thurgood Marshall

James Meredith
Kswisi Mfume
Toni Morrison
Elijah Muhammad
Huey P. Newton
Jesse Owens
Charlie Parker
Gordon Parks
Rosa Parks
Alvin F. Poussaint
Adam Clayton Powell Jr.
Colin L. Powell
Leontyne Price
Paul Robeson
Jackie Robinson
Carl T. Rowan
Arthur A. Schomburg
Betty Shabazz


Melvin Van Peebles

Madame C.J. Walker
Denzel Washington
Maxine Waters
L. Douglas Wilder
August Wilson
Oprah WInfrey
Tiger Woods
Richard Wright
Malcolm X
Andrew Young


Coleman Young
For an interview with Jessie Carney Smith on Black History Month: A Time to Rejoice, click here.

E-mail to a Friend
Quick Facts
ISBN: 9781578591367
752 pages
215 photos
7.25" x 9.25" paperback
$29.95 ($34.95 Can.)
Foreword by Nikki Giovanni
Related Titles
You might also enjoy...
Also by Jessie Carney Smith, Ph.D....
---
---