Originals! Black Women Breaking Barriers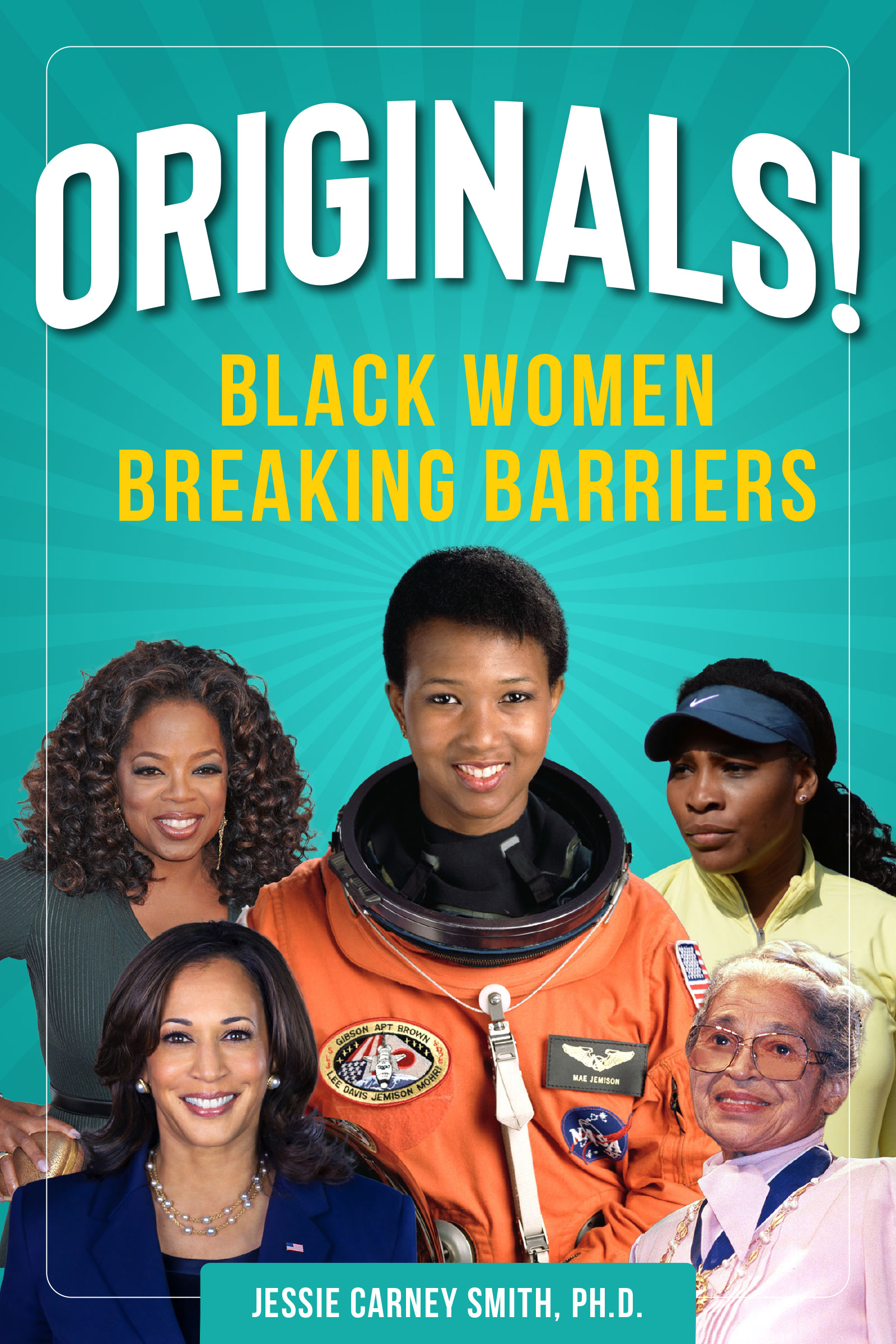 … provides brief entries on pioneering black women in the US from the early history of the country to the present … groundbreaking and pioneering women in the arts and entertainment, business, civil rights and protests, education, journalism, the military, organizations, politics and government, religion, science and medicine, and sports … individuals like Marian Anderson, Bessie Smith, Misty Copeland, Anna Deavere Smith, Oprah Winfrey, Maya Angelou, Madame C.J. Walker, Maggie Lena Walker, Rosa Parks, Ida B. Wells, Michelle Obama, Simone Biles, Kamala Harris, and many others.

Protoview Book News
The story of black women in America is one of struggle and obstacles overcome. It is a story of great achievement and soaring heights. Originals! gives readers a way to discover and celebrate the achievements of some of America's most inspiring women.

SirReadALot.org
Overlooked and underappreciated, African American women have long been relegated to a footnote in America history, but now they are at the forefront of societal, political, and cultural change.
Originals! Black Women Breaking Barriers
shines a welcome light on some of America's most remarkable women, their enduring stories, and 1,400 of their amazing accomplishments!
Honoring and celebrating hundreds of America's most inspiring women, Originals! supplies a rich record of progress in America from the humble accomplishment in a workplace or the incremental change in small town government to the historic civil rights movers and a renowned elected politician. From the flight attendant who broke the color barrier to Stacey Abrams's fight for the voting rights of people of color, each is momentous in their own way. The book covers the ground-breaking achievements and lasting legacies of well-known and lesser-known stars, including …
Amanda Gorman, inaugural poet
Amber Ruffin, writer Late Night with Seth Meyers
Juanita Hall, Tony Award winner for her performance in the 1949 Broadway production of South Pacific
Eileen Jackson Southern, first Black female tenured professor at Harvard
Sarah Boone, patent recipient for an ironing board
Patricia Roberts Harris, ambassador to Luxembourg and later an alternate delegate to the United Nations
Shirley Anita St. Hill Chisholm, elected to the House of Representatives
Kayla Freeman, pilot in the Alabama National Guard
Joann M. Jacobs, firefighter in New York City
Tyra Banks, first African American Sports Illustrated cover model
Martesha Johnson, Metropolitan Chief Public Defender in Nashville, Tennessee
Alexa Irene Canady, first Black woman neurosurgeon in the United States
Venus (Ebone Starr) Williams, first Black top-ranked Women's Tennis Association (WTA) player
And many more awe-inspiring accomplishments and amazing heroines!

Hard-won victories. Barrier-breaking triumphs. Society-changing feats. Explore the vital roles of some of the most impressive women in American history with Originals! Black Women Breaking Barriers. It brings to light much to admire about some extraordinary women who spearheaded change!

E-mail to a Friend
Quick Facts
ISBN: 9781578597598
eBook ISBN: 9781578597710
Published 2022
384 pages
210 photos and illustrations
6 x 9" paperback
$19.95
Related Titles
You might also enjoy...
Also by Jessie Carney Smith, Ph.D....
---
---