The Handy English Grammar Answer Book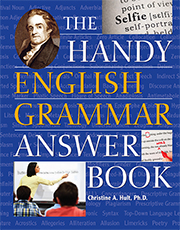 ... this book is indeed handy … Written in a conversational style, the book is well organized and easy to read. This grammar guide distills a lot of technical grammar rules into a digestible format ...

Booklist
The grammarian in your life will love owning The Handy English Grammar Answer Book, by Christine A. Hult, PhD. It's a nice reference book, ready-made for a quick look-up and argument settler.

Bookworm Sez
... aids in making writing memorable ... easy-to-use reference ... highly useful for both beginners and professionals.

Christian Library Journal
... packed with useful tips, sample letters and documents, and examples of how to avoid common mistakes. ... a nice balance between high-level explanations of grammar and style rules, and straightforward examples of correct and incorrect usage. ... highly useful for both beginners and professionals.

Foreword Reviews
Beginning with the history of language and its relationship to specific cultures and peoples, Hult (emerita, English, Utah State Univ.) reviews Old, Middle, and Modern English; regional dialects; American English variations; and slang, alternating between first-, second-, and third-person voices … helpful ...

Library Journal
Proper Grammar and Effective English Usage Made Easy Do you wonder where to place the comma or when to use a semicolon?
Have you ever written an email that was misunderstood—or, even worse, completely misinterpreted? Whether it's for a professional document, a school paper, an Internet blog, or something more personal, effective communication depends on clear, concise, and grammatically correct writing. Punctuation, spelling, and grammar rules can trip up anyone, while organization and word choice can make writing memorable—or boring.
The Handy English Grammar Answer Book offers fundamental principles, grammar rules, punctuation advice, insights on writing, and writing examples for everyone and every occasion. From a brief history of the English language to the deconstruction—and explanation—of the different parts of a sentence, and from showing how to punctuate correctly to how to organize a well-argued essay, this easy-to-use reference answers nearly 500 questions and offers fun facts on the English language and its usage, including …
What is a linking verb? What is a compound sentence? How do I use quotation marks when suggesting skepticism or sarcasm? How do I know if a website's information is up to date? How do I use sources to support my own arguments? How do I write a white paper? How is grammar affected by new media?
For speakers and writers of all ages and skill levels, this book is a useful and engaging guide to writing with clarity.

E-mail to a Friend
Quick Facts
ISBN: 9781578595204
PDF ISBN: 9781578595709
Kindle ISBN: 9781578595723
ePUB ISBN: 9781578595716
432 pages
110 photos and illustrations
7.125 x 9.25 paperback
$49.95
Related Titles
You might also enjoy...
---
---