The Handy Civil War Answer Book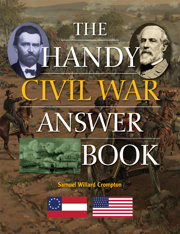 This new volume is a quick and fascinating introduction to the Civil War, touching on pertinent aspects of the conflict. The author covers the battles but also discusses, various social, economic, political, and other issues related to the period. Highly Recommended.

Choice
This is a well-written, interesting approach to Civil War history. It will interest those who have some knowledge and want to pursue inquiries on various aspects of particular battles or other subjects. It is recommended for those readers.

Civil War News
This title could work as a supplementary American history textbook for high school students or serve as personal reading for Civil War buffs.

Library Journal
Using a question-and-answer format, this information-filled volume offers a plethora of facts about the Civil War ... An inexpensive addition to the numerous Civil War books being published during the sesquicentennial.

School Library Journal
"This latest entry in the Handy Answer Book series proceeds chronologically through the major battles, personalities, and background issues of the U.S. Civil War. The author achieves a strong narrative flow. [He] is knowledgeable and judicious. Like the other Handy Answer Books, this entry on the Civil War is not specifically marketed to young adults, but is quite suitable for teens as well as for general readers."

Voya Reviews
The nation's highest-casualty, bloodiest-war is still discussed, acted out, and politically relevant today.
Beginning with the economic, political, and social forces behind the conflict, continuing to the first shots fired at Fort Sumter, the military strategies, battles, and people, and following Lee's surrender at Appomattox to the reconstruction and modern aftermath,
The Handy Civil War Answer Book
is a captivating, concise, and convenient history of America's defining conflict.
The strategies of Lee, Sherman, and Grant; the key battles, including Gettysburg, Chattanooga, and Chancellorsville; the weapons, the prices of everything from a bale of cotton to a box of ashes; and the fascinating stories of the women, children, and soldiers affected by the carnage are explained and explored. From the biggest events and battles to the lesser known warriors and women, the war, its participants, and historical significance are presented through more than 900 questions, including: How did the Mexican War influence Americans of the 1850s? What was Robert E. Lee's connection to George Washington? Would North and South have been reconciled if Lincoln were not assassinated? What happened to the centennial celebrations of the Civil War? and many, many more.

E-mail to a Friend
Quick Facts
ISBN: 9781578594764
PDF ISBN: 9781578594962
Kindle ISBN: 9781578595198
ePUB ISBN: 9781578595181
432 pages
120 photos
7.125 x 9.25 paperback
$29.95 ($23.99 Can.)
Related Titles
You might also enjoy...
Also by Samuel Willard Crompton...
---
---