The Handy Literature Answer Book: An Engaging Guide to Unraveling Symbols, Signs and Meanings in Great Works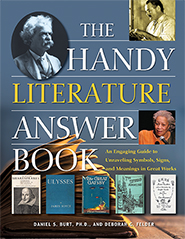 The writer / reader on your gift list will truly enjoy "The Handy Literature Answer Book" by Daniel S. Burt, PhD, and Deborah G. Felder. It's a book about books, authors, reading and more books.

Bookworm Sez
… offer general and specific advice for reading different types of literature. They address the definition of literature; how it should not be read; and how to read poetry, short stories, novels, drama, and literary nonfiction …

Protoview Book News
… Burt and Felder teach readers to analyze poetry, short stories, novels, drama, and literary nonfiction. … The "Recommended Essential Works of Literature" is particularly valuable. … A solid addition to classroom libraries and most useful as a resource for middle and high school English teachers.

School Library Journal
From the epic of Gilgamesh to Aristotle and Cicero, and from Shakespeare and the King James Bible to Wuthering Heights, War and Peace, The Adventures of Huckleberry Finn and the Nobel-winning lyrics of Bob Dylan, the world of literature is an integral part of our lives.
Great literature can shape and form thoughts and opinions as well as influence politics and predict the future. Reading can truly enrich our lives, but it can sometimes be daunting to get the most out of a great work of literature.
The Handy Literature Answer Book: Understand and Enjoy Meanings, Symbolism, and Signs in Great Works is an engaging, easy-to-read look at literature basics such as themes, symbols, context, and other literary devices. Different literary forms, including novels, poems, plays, short stories, memoirs, and literary nonfiction are analyzed. Hundreds of important stories and great works are used as illustrative examples. Learn about the five basic questions for any work of literature, including "What is the significance of a title?" "What is conflict?" "What is character development?" "What is point of view?" "How does a setting affect a story?" "What are the different schools of literary criticism?" and many more.
Bringing the most out of the reading experience, The Handy Literature Answer Book deciphers and analyzes stories, novels, and verses through insightful in-depth answers to nearly 400 common questions. You will also read about such fascinating tidbits as … • What are the key components of literature? • How is reading literature different from other kinds of reading? • Why is artful reading so hard? • What do poems do? • How should a poem be read for its comparisons—metaphors and similes? • What, according to Poe, should be the method of the short story writer? • How do you recognize the difference between story and plot in a short story? • How can you recognize a symbol? • What are the defining characteristics of the novel? • How did the novel evolve from a popular literary entertainment to the modern novel? • What is the difference between drama and theater? • What is the best way to understand and appreciate Shakespearean drama? • What approaches should you take in reading an essay? • What are characteristics of a memoir?
This handy primer also includes a glossary of essential literary terms, a timeline, a helpful bibliography, and an extensive index, adding to its usefulness. Making reading more enriching, rewarding, and enjoyable, The Handy Literature Answer Book is a wonderful, eye-opening read!

E-mail to a Friend
Quick Facts
ISBN: 9781578596355
eBook ISBN: 9781578596782
496 pages
140 photos and illustrations
7-1/8 x 9-1/4 paperback
$29.95
Related Titles
You might also enjoy...
Also by Deborah G Felder...
---
---