The Handy Physics Answer Book, Second Edition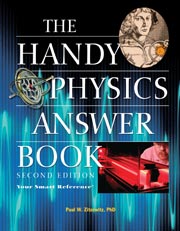 [D]istills complicated physics concepts into bite-size explanations in question-and-answer format. The text is clear and easy to understand.

ARBA
The author does a good job explaining technical concepts simply. Answers are in plain nontechnical English, and formulas and jargon are kept to a minimum. This second edition will find its place with other popular physics books.

Booklist
If your physics questions are specific, such as "What is Energy?" or "What is the difference between a dead load and a live load?" this book will work for you. Or if you want to page through and find answers to questions you did not know you had, this book will also work for you. The question and answer series is effective and clearly written. This book will be welcomed in the classrooms of middle school and high school, as well as a reference in libraries.

Children's Literature
The Handy Physics Answer Book is geared toward the general audience but still of value to the scholar. Recommended.

Christian Library Journal
This question-and-answer guide provides brief explanations suitable for quick reference and curious browsers. With a useful list of symbols and glossary.

Library Journal
It is often not only convenient, but necessary, to have at hand a reference guide to answer basic questions regarding physics. This book does that and more. This is great book for anyone.

National Science Teachers Association
The emphasis on practical applications of the principles of physics, including bridges, golf balls, lasers, calories, and electrical outlets, make this book a good selection for questions related to physics in the real world. This book will be a helpful reference for librarians, teachers, and with encouragement, for youth of all levels.

Voya Reviews
Eschewing the usual mathematical explanations for physics phenomena, this approachable reference explains complicated scientific concepts in plain English that everyone can understand.
Completely updated to tackle the big issues such as gravity, magnetism, sound, and what really happens in the Large Hadron Collider, this engaging look at physics also spells out why cats always land on their feet, why people appear to have red eyes in photographs, and the real danger of looking at an eclipse.
For everyone who ever wondered how a light bulb works or how squirrels avoid electrocution on the power lines, this handbook supplies answers on the physics of everyday life and examines the developments in the exploration of subatomic particles. In addition to the question-and-answer section, an addendum of facts about physicists explains what the Nobel prize is and who has won it, and tells the story of the scientist who was incarcerated for agreeing with Copernicus.

E-mail to a Friend
Quick Facts
ISBN: 9781578593057
PDF ISBN: 9781578593552
Kindle ISBN: 9781578593569
ePUB ISBN: 9781578593576
384 pages
100 photos and illustrations
Illustrated
7.25" x 9.25" paperback
$39.95
Physics and Science
Related Titles
You might also enjoy...
Author Websites
---
---