The Handy Biology Answer Book, Second Edition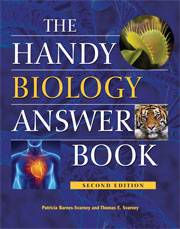 This book best serves public libraries and high school media centers. These students as well as the general public will find the text engaging and the material useful.

ARBA
The Handy Biology Answer Book...is the ultimate reference guide to life science.

Bella Online
… a miscellany of very brief answers to some interesting and surprising questions about topics in the biological sciences. …write[n] in a lay conversational style, appropriate for general readers, and the questions addressed are consistently interesting. … Recommended.

Choice
Written in the question/answer format that is typical of inquisitive adolescents, the authors introduce the field of biology as well as the many careers within the field. The authors recognize that their book contains highlights spanning the breadth of biology …. The Handy Biology Answer Book is a great place to start and it ends with an excellent recommendation to pursue your favorite topic.

National Science Teachers Association Recommends
...diligently updated and revised...More than 100 black-and-white pictures, diagrams, and charts grace this reference book, adding support to numerous topics. A vast glossary defining key terminology, suggested books, websites, news sites, and a detailed index conclude this helpful and inviting book.

School Library Journal
Everything you've always wanted to know about biology (and probably much more) has been asked and answered in this informative, engrossing and entertaining book.

University of Pittsburgh
Gene therapy.
Forensic DNA profiling. Biochemistry. Biotechnology. Cloning. Stem Cells. Super Bugs. Genetically modified food. Botany. Zoology. Sex. The study of life and living organisms is ancient, broad, and ongoing. Biology combines the Greek word for life (bios) with the suffix
-ology,
or science/study/knowledge of.
Completely revised and updated, The Handy Biology Answer Book examines and explains the workings of cell structures, bacteria, viruses, fungi, plant and animal characteristics and diversity, endangered plants and animals, evolution, adaption and the environment, DNA and chromosomes, genetics and genetic engineering, laboratory techniques, and much more. From the newsworthy to the practical and from the medical to the historical, it brings well-researched answers to more than 1,250 common biology questions, such as What is social Darwinism? Is IQ genetically controlled? Do animals commit murder? How did DNA help "discover" King Richard III? and Is obesity inherited?

E-mail to a Friend
Quick Facts
ISBN: 9781578594900
PDF ISBN: 9781578595242
Kindle ISBN: 9781578595266
ePUB ISBN: 9781578595259
496 pages
120 photos, illustrations and line_drawings
7.125 x 9.25
$49.95 ($23.99 Can.)
Related Titles
You might also enjoy...
Also by Patricia Barnes-Svarney...
Also by Thomas E Svarney...
---
---