The Handy Science Answer Book, Fourth Edition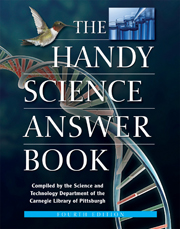 ...a superior source on essential science data...

ARBA
A book filled with answers to the frequently asked questions of science and technology, this fourth edition updates the research. The straight-forward writing could be understood by fourth grade and up. The book is organized with an extensive table of contents at the beginning and an even more extensive index at the end.

Children's Literature
A user-friendly guide explaining scientific concepts in plain English. Recommended.

Christian Library Journal
Here's a way to answer those burning questions you wonder about, or the ones your teacher asks for homework.

Dallas Morning News
The eight years since this title's last appearance constitute an era in some sciences, marking high time for a new edition. Recommended.

Library Journal
Easily read by students in grades 4-12, this resource invites the curious mind to explore.... What a fun and educational way to explore the wonders of the world of science, the world in which we live.

National Science Teachers Association
Fascinating stuff. Most readers will have hours of fun just picking pages at random.

Pittsburgh Magazine
...this science resource will resolve arguments, support homework assignments, provide engaging trivia, and help satisfy readers' curiosity.

SciTech Book News
With a wide range of information suitable for everyone, this is the ideal source for anyone looking to get a better understanding of science.

SirReadALog.org
Answers to just about any science question .
. .

From the inner workings of the human body to the farthest reaches of the universe, The Handy Science Answer Book by The Carnegie Library of Pittsburgh explains intriguing scientific concepts in plain English that everyone can understand. In the first update in over eight years, this edition poses and answers nearly 2,000 questions, providing and abundance of original and interesting science facts.

Physics, chemistry, astronomy, geology, climate and weather, ecology, plants and animals, biology, health and medicine, energy, and more are included in The Handy Science Answer Book, a friendly guide to the most significant scientific theories and discoveries of our time.

With a wide range of information suitable for everyone, this is the ideal source for anyone looking to get a better understanding of science. Entertaining and enlightening, it answers burning questions, supports homework assignments, provides engaging trivia, and helps satisfy curiosity. It also includes a helpful index.

E-mail to a Friend
Quick Facts
ISBN: 9781578593217
PDF ISBN: 9781578593620
Kindle ISBN: 9781578593613
ePUB ISBN: 9781578593637
688 pages
$29.95
Related Titles
You might also enjoy...
---
---