The Handy California Answer Book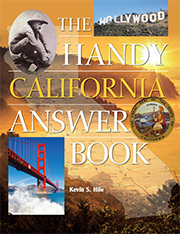 The person on your gift list with the most wanderlust will love having The Handy California Answer Book by Kevin S. Hile. It's a book filled with fun-to-know facts about California, in a Q-and-A format and it contains everything you need to know.

Bookworm Sez
Whether you've just moved to California, have lived here your entire life or just like to learn interesting facts, The Handy California Answer Book makes a great Christmas gift for you or a friend.

Placerville Mountain Democrat
If someone wanted a children's travel guide to California, The Handy California Answer Book would be the logical choice. ...

VOYA
California is the country's most populous state.
The home of the entertainment industry and silicon valley. It's known for its beaches, its redwood forests, and as the "land of fruit and nuts." Its people, industries, politicians, climate, and allure captivates the world and draws millions of visitors each year. Exploring the state's fascinating history, people, myths, culture, and trivia, The Handy California Answer Book takes an in-depth look look at this fascinating, quirky, and diverse state.

Learn about the original Indigenous peoples, the Spanish explorers, the independence from Spain, the secession from Mexico, the Gold Rush, the building of the Los Angeles Aqueducts, the earthquakes, the water shortages, and much, much more. Tour landmarks, learn about famous sons and daughters, the sports teams, and the unique character of the state through a combination of facts, stats, and history, as well as the unusual and quirky. This comprehensive guide to California answers more than 1,100 intriguing questions, including How did "Eureka!" become the state motto? Why is a grizzly bear on the state flag when no grizzlies exist in California? Was the coast of California ever attacked by pirates? How did Silicon Valley become a center for the high tech industry?

E-mail to a Friend
Quick Facts
ISBN: 9781578595914
PDF ISBN: 9781578596225
Kindle ISBN: 9781578596249
ePUB ISBN: 9781578596232
464 pages
150 photos and illustrations
7-1/8 x 9-1/4 paperback
$49.95
Related Titles
You might also enjoy...
Also by Kevin S Hile...
---
---