Demons, the Devil, and Fallen Angels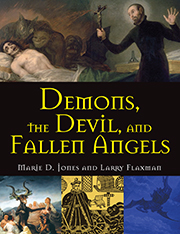 An image-packed compendium on embodiments of evil, this overview incorporates significant historical events and modern phenomena. … A worthwhile addition to the high school or public library.

Booklist
If there's someone on your gift list who wants a comprehensive look at things that go "bump" in the night, then wrap up "Demons, the Devil and Fallen Angels" by Marie D. Jones and Larry Flaxman. It's a book about religion, beliefs, traditions and the dark side of all of the above.

Bookworm Sez
… a very impressive book … Looking for signs of possession, the rites of Exorcism, or just curious about where Satanism fits in … then look no further!

Horror News
…an illustrated encyclopedic compendium containing a vast amount of information that can be read through or used for reference.

Magonia Review of Books
… an excellently researched, non-preachy, and solidly historical study of how beliefs in the existence of the Devil, demons and more came to be – and how they mean different things to different cultures.

MysteriousUniverse.org
explore(s) the history and theories of demons, the devil, and fallen angels in various religious traditions, myths, folkloric and spiritual traditions, and the supernatural.

Protoview Book News
An illuminating look at demons, devils, fallen angels, and the darker sides of human nature
The devil goes by many names, and his tribe is legion. Throughout human history, we have been obsessed with the dark opposites of God and angels, light, and mercy. Whether it is our religious and sacred texts, folklore, and myths of old; legends, fairy tales, and novels; or the movies and television shows of today, the dark entities enthrall us, terrify us, and remind us of the duality of good and evil.
Ancient cultures, virtually all religious traditions, and our modern society all have their lore, myths, and legends of monstrous, heinous, and sinister creatures populating the earth, plaguing mankind, and causing great suffering. But are they real—and where did they originate? Where are they now? Are they everywhere, surrounding us?
Demons, the Devil, and Fallen Angels is a comprehensive, clear, and objective look at a subject that fills most people with fear and dread, one that remains a part of our human experience, our popular culture, and our spiritual understandings. It explores the shadowy side of existence and its integral part of our nature within over two dozen religious traditions, myths, folkloric and spiritual traditions, and the world of the supernatural, as well as the demons, the Devil, and fallen angels in today's pop culture.
This wide-ranging tome explores ancient everything from demon worship to modern Satanism, the bloody era of the Inquisitions and later witch burnings to the Satanic Panic of the late-twentieth century and secret occult societies, as well as demonic places, possessed objects, and Hitler's involvement with demonology. Learn about the link between demons/fallen angels and aliens, cryptids, apparitions, and poltergeists, as well as the cultural history of demons and the Devil, the practices behind the worship of dark forces, and the lives of well-known figures who were alleged Satanists, some of whom may surprise you!

E-mail to a Friend
Quick Facts
ISBN: 9781578596133
PDF ISBN: 9781578596669
ePUB ISBN: 9781578596676
384 pages
120 photos and illustrations
7-1/8 x 9-1/4 paperback
$44.95
Related Titles
You might also enjoy...
Also by Marie D Jones...
Also by Larry Flaxman...
---
---