Disinformation and You: Identify Propaganda and Manipulation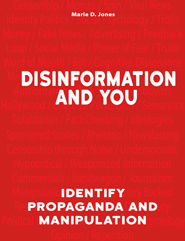 This illustrated reference will appeal … with its conversational tone and a layout of headings, bullets, and photos that encourages browsing. From gaslighting to conspiracies and fake news, the book explains how to spot and fight back against deceptive propaganda and disinformation.

Protoview Book News
They provoke you with anger because fear-filled people are easier to manipulate.
The tricks, tools and tactics used to influence you and your loved ones—along with the history of propaganda—explained and explored.
We live in an age of disinformation, misinformation, and outright lies. The modern world blasts us with information, talking points, spin, advertising, and attempts to persuade. But what are we to believe and whom should we trust?
Examining the history of propaganda and disinformation in war, politics, polling, media, entertainment, cults, advertising, science, medicine, today's media landscape, and even in our personal interactions, Disinformation and You: Identify Propaganda and Manipulation helps you spot and counter the seductive and deceptive tactics to influence individual behavior. It provides helpful suggestions and tips for identifying disinformation and fighting back against manipulation and censorship.
Engaging and useful, this book's helpful topics include …
the money behind politics and the media
predictive programming as a form of social engineering
advertising sales tactics
how things go viral
the power of memes and hashtags to push a story or idea
censorship in the media and on social media networks
sponsored news, fake news, and the mainstream media
cult mentality and groupthink
disinformation campaigns and false flags
how conspiracy theories work
how to identify fake news and propaganda

Disinformation and You shows you the tricks used to influence your behavior. So, get on the bandwagon with the rest of us decent folk and stop listening to fools. After all, two out of three people have seen their IQ scores rise by buying this book! Really, buy this book and be smarter (in recognizing propaganda, that is). With many photos, illustrations, and other graphics, this tome is richly illustrated, and its helpful bibliography and extensive index add to its usefulness.

E-mail to a Friend
Quick Facts
ISBN: 9781578597406
eBook ISBN: 9781578597468
400 pages
120 photos and illustrations
6 x 9" paperback
$22.95
Related Titles
You might also enjoy...
Also by Marie D Jones...
---
---