Earth Magic: Your Complete Guide to Natural Spells, Potions, Plants, Herbs, Witchcraft, and More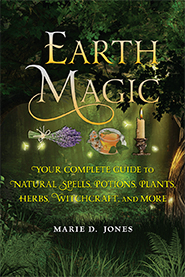 For the person who would love something a little unique this holiday, look for ďThe New WitchĒ by Marie D. Jones. Itís a book about Wicca, spells and potions, magic and all kinds of things that todayís spiritual practitioner needs to know. Wrap it up with ďEarth MagicĒ by Marie D. Jones, a guide for the sorceress in you.

Bookworm Sez
Ö a thorough, approachable beginnerís guide to witchcraft and herbalism. Ö covers a variety of spiritual practices and supplies, such as spellcasting, crystals, moon magic, and herbs Ö a decent primer.

Publishers Weekly
A fascinating read, Earth Magic shares practical advice and timeless insights.Green living, natural healing, alignment with the Earth and stars Ė itís all found in this guide to a universe filled with marvels.

SirReadALot.org
Unearth the power of nature!
Healing through herbs. Spells to find your soul mate. Stones to improve concentration and increase productivity. Potions for happiness. Secrets of the stars.
Natureís magic is everywhere. Itís in backyards, in the woods, ponds, and even kitchens. You just need to know how to see it. Itís finding the well-being drawn from the energies of the Earth and the universe. Itís the herbs and plants, symbols and talismans, candles, stones, gems, and crystals, and their special powers and meanings, spells, potions, and animal and spirit guides. Even as it gives us the food, water, and air we need to survive, the Earth offers gifts far beyond the obvious.
Earth Magic: Your Complete Guide to Natural Spells, Potions, Plants, Herbs, Witchcraft, and More, will guide you through the rites, practices, and traditions people use to connect themselves to the planet, spirits, and energies. Learn how the laws of the universe and the forces of science can allow you to achieve your desires and intentions by aligning unseen energy. Find the wisdom in the stars and planets above and the Earth below.
Earth Magic brings balance and harmony to modern life through the healing and uplifting powers nature. A fascinating read, this book shares practical advice and timeless insights. Green living, natural healing, alignment with the Earth and starsóitís all here in this wondrous guide to a universe filled with marvels. Simply read these pages and embrace the magic!

E-mail to a Friend
Quick Facts
ISBN: 9781578596973
eBook ISBN: 9781578597154
272 pages in color
120 photos and illustrations
$24.95
Related Titles
You might also enjoy...
Also by Marie D Jones...
---
---